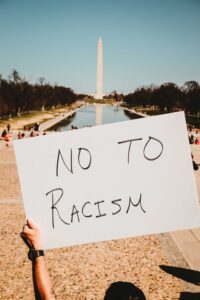 The history of health care in the United States, and our decades-long quest for universal health care, are intertwined with racial justice. This February we explore where we are, where we've been, and how we can support racial justice and equity in the movement for universal health care. Below is a collection of articles, videos, podcasts, and more that we've found useful in educating ourselves and informing our work.
Story Map: The Problem of the Color Line
Health Affairs
February 2022
"Unlike interpersonal racism, structural racism exists and endures over time without involving the explicit choices or behaviors of individual people. Systems of oppression (or, conversely, privilege for White populations) have taken shape over centuries, affecting populations' economic assets, educational outcomes, incarceration patterns, employment opportunities, and access to health care—the topic of this StoryMap. Structures that affect the health outcomes of people in places have evolved over time, are supported at multiple levels of society, and without intervention, maintain themselves over time." 
---
Maine perspectives:
Webinar: Racial Justice and Health Equity
Maine Initiatives
"As long as we have a health care system that is based on employment, that is based on the profits of private insurance companies, then we're never going to be able to get at this issue of health equity."
–DrewChristopher Joy of The Southern Maine Workers Center
Maine has nation's worst COVID-19 racial disparity
Portland Press Herald
June 2020
"No other state has such a wide gap – more than 25 percentage points – between the size of the Black population and that community's share of infections."
---
Medicare and racial justice:
Film: "Power to Heal" (preview)
Bullfrog Films and BLB Film Productions
2018
"Power to Heal shows both the destructive legacy of racism in American health care and the potential for collective action to redress these wrongs. We should be inspired by Medicare's role in desegregating our nation's hospitals, and should insist on further reform – like improved Medicare for all – to address the systemic racism that plagues patients of color to this day." 

–Dr. Claudia Fegan, National Coordinator, Physicians for a National Health Program
Learn more here
---
Disparities in Health and Health Care: 5 Key Questions and Answers
Kaiser Family Foundation
2021
"The disparate impacts of the COVID-19 pandemic, ongoing incidents of police brutality, and recent rise in Asian hate crimes have brought health and health care disparities into sharper focus among the media and public. However, health and health care disparities are not new. They have been documented for decades and reflect longstanding structural and systemic inequities rooted in racism and discrimination. Addressing these inequities could help to mitigate the disparate impacts of the COVID-19 pandemic and prevent further widening of health disparities going forward. Moreover, narrowing health disparities is key to improving our nation's overall health and reducing unnecessary health care costs.

Health and health care disparities refer to differences in health and health care between groups that stem from broader inequities." 
Racism, Inequality, and Health Care for African Americans
The Century Foundation
December 2019
"The American health care system is beset with inequalities that have a disproportionate impact on people of color and other marginalized groups. These inequalities contribute to gaps in health insurance coverage, uneven access to services, and poorer health outcomes among certain populations. African Americans bear the brunt of these health care challenges."
Structural Racism In Historical And Modern US Health Care Policy
Health Affairs
February 2022
"Lack of equitable access to high-quality health care is in large part a result of structural racism in US health care policy, which structures the health care system to advantage the White population and disadvantage racial and ethnic minority populations."
The above is part of a special issue of Health Affairs on Racism and Health.
---
Public health perspective:
Racism and Health
American Public Health Association
"Racism is a system of structuring opportunity and assigning value based on the social interpretation of how one looks (which is what we call "race"), that unfairly disadvantages some individuals and communities, unfairly advantages other individuals and communities, and saps the strength of the whole society through the waste of human resources." 

–APHA Past-President Camara Phyllis Jones, MD, MPH, PhD
---
Indigenous peoples' health:
The Generational Impact Of Racism On Health: Voices From American Indian Communities
Health Affairs
February 2022
"Generations of American Indians and Alaska Natives have suffered from policies that called for their genocide as well as policies intended to acculturate and dominate them—such as the sentiment from Richard Henry Pratt to "kill the Indian…, save the man." The intergenerational effect is one that has left American Indians and Alaska Natives at the margins of health and the health care system. The effect is devastating psychologically, eroding a value system that is based on community and the sanctity of all creation. Using stories we collected from American Indian people who have experienced the results of racist policies, we describe historical trauma and its links to the health of American Indians and Alaska Natives."
Podcast: Indigenous and Invisible in the Big City
American Diagnosis
"Over 70% of Indigenous people in the United States live in urban areas. But urban Indian health makes up less than 2% of the Indian Health Service's annual budget.

While enrolled members of federally recognized tribes can access the Indian Health Service or tribally run health care on their reservations, Indigenous people who live in cities can find themselves without access to the care they're entitled to."
---
Physicians for a National Health Program (PNHP) has lots of resources on their website. Some highlights below. Visit their Kitchen Table Campaign: Racial Health Inequities for more.
Under "The Case for Change" on our website, find commentary by Maine AllCare board member Caryl Heaton, DO, on how universal health care can be anti-racist.
Photo: Ehimetalor Akhere Unuabona, Unsplash