Maine AllCare, the only organization in our state devoted solely to the advancement of universal health care, was established in early 2010 at the initiative of Charlie Priest, an attorney and state representative from Brunswick. About a dozen interested citizens from all walks of life came together to form a nonprofit corporation and elected Julie Pease, MD, as board president, and Phil Caper, MD, as vice-president. Thus began a quest that is ongoing to this day, to bring comprehensive, affordable health care to every Maine resident.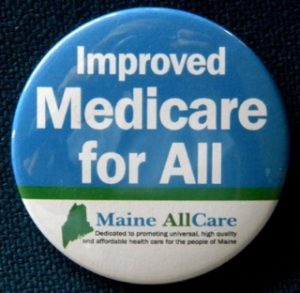 PHNP, Physicians for a National Health Program, played an important role in forming Maine AllCare. In fact, we are the official Maine chapter of PNHP, one of dozens of chapters around the country.
The need for major improvement in health care services, particularly in our rural areas, is well documented. In December 2002 Mathematica Policy Research, Inc. submitted a report to the Maine Legislature on the "Feasibility of a Single-Payer Health Plan Model for the State of Maine." Their conclusion: "a single-payer system appears to be economically feasible for Maine." Unfortunately, the legislature instead chose to implement Dirigo Health the following year. Dirigo was a very modest and underfunded program of subsidized commercial insurance for some businesses. Not surprisingly, it failed to catch on.
The failure of Dirigo was a major reason to organize a non-partisan, citizen-driven effort — Maine AllCare — to build a large body of support by educating the public about the financial and personal benefits of transforming our health care system. Specifically, the goal was to change how we fund health care and move from our complex, wasteful, for-profit insurance-based system to a simple, publicly funded system that covers everyone.
The new Maine AllCare Board got to work by creating a visible presence through our speakers' bureau and holding informational meetings.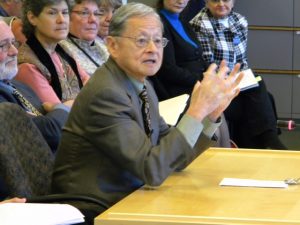 We invited the internationally known Harvard health care economist, Dr. William Hsiao, to speak before the state legislature, and at other venues, about the success of single-payer health care in other countries. The headline from his testimony was his estimate that Maine could save $1 billion in health care spending in the first year single-payer care was fully implemented.
Another notable guest of Maine AllCare, Margaret Flowers, MD, spoke to medical students at the University of New England about her own transformation from pediatrician to universal health care advocate. UNE students organized their own Maine AllCare chapter as one result of Dr. Flowers' presentation.
Board members traveled around the state, from Biddeford to Presque Isle and from Farmington to Eastport; we gave slide presentations followed by discussions and Q&As.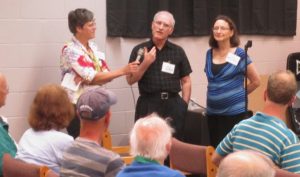 We created a website, produced communication materials, and began to showcase The Healthcare Movie, a successful documentary comparing Canada's national health system called "Medicare" to our insurance-based chaos.
In 2014, Professor James Perley joined the board and through his efforts Maine AllCare received its first significant financial contribution, laying the foundation for sustained growth.
We began the transition from a totally volunteer organization with no budget to one with a paid field staff and a growing base of statewide support. Importantly, 2014 was the first time in Maine history that a universal, single-payer health care bill, LD 1345, supported by Maine AllCare, passed by a significant margin in both the Maine House and Senate (91-52 and 20-14, respectively). The bill was vetoed by the governor and came four votes short in the override vote, 91-54 with six absent.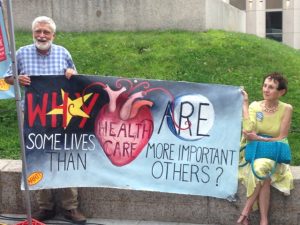 Medicare, one of the most successful social programs ever enacted into law, reached its  50th anniversary in 2015. Maine AllCare volunteers celebrated by organizing and gathering signatures at three events, in Portland, Brunswick, and Andover, to protect (from privatization), improve, and expand Medicare. Along with Maine AllCare, representatives from the Maine State Nurses Association and the Southern Maine Workers Center also participated. Copies of the signed petitions were shared with each of our congressional representatives.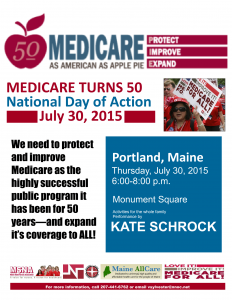 In 2016 we focused on the establishment of new chapters, adding 2,000 new supporters, speaking engagements with special attention to business and medical groups, a plan to raise $100,000, a legislative plan for 2017, and importantly, transitioning leadership within Maine AllCare, including hiring an executive director and/or field organizer. Henk Goorhuis, MD, an emergency room physician, was elected president of the board and a team of Chris Cayer and Abbie Ryder were hired as field organizers. They promptly set to work setting up new chapters, and arranging for Maine AllCare participation at popular annual events such as the Common Ground Country Fair, Stonington Fishermen's Day, Belfast Harbor Fest, the Brunswick Outdoor Arts Festival, and many others.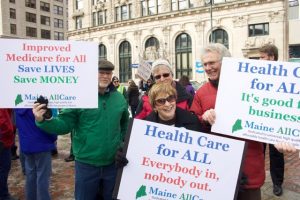 During the next two years, in 2017-18, our list of supporters grew rapidly, approaching 40,000 active supporters. This was the direct result of the growth in Maine AllCare chapters and the public informational events they organized. Thousands of Mainers signed our well-recognized yellow cards that state in bold letters: I SUPPORT UNIVERSAL HEALTHCARE.
During these same two years, Maine AllCare advanced the legislative progress of a universal health care bill and various related task forces. LD 1274, commonly referred to as the "Healthy Maine Act" presented by Representative Brooks of Lewiston (An Act to Promote Universal Health Care, Including Dental, Vision and Hearing Care) was reported out as "ought not to pass" even though most of the 92 people testifying were in support of the bill. The final report of the task force, released in November of 2018 recommended continued work "to develop, study and analyze options for health care reform."
In order to provide real answers with real numbers attributable to health care costs in Maine, Maine AllCare tasked the Maine Center for Economic Policy to analyze the financial implications of implementing universal health care in our state. The report, which was shared at a December 16, 2019, hearing before the Legislature's Joint Standing Committee on Health Coverage, Insurance and Financial Services, stated that universal health care would protect all Mainers, and save the state $1.5 billion annually. This was an important undertaking, since it finally answered the complaint that a universal system is out of reach financially for Maine. Clearly, it is not.
Our work continues. Today we have eight Maine AllCare chapters engaged in education and advocacy. They are in Portland, Sacopee Valley, Brunswick, Bangor, Blue Hill Peninsula, Lincoln County, York, and Ellsworth/MDI. With the help and support of an informed public, we will realize the promise of universal, publicly funded, privately delivered health care — it will become a public good.
Please join our quest to bring affordable, comprehensive, quality health care to everyone in Maine.
By Joe Lendvai, founding member, Maine AllCare — July 2020