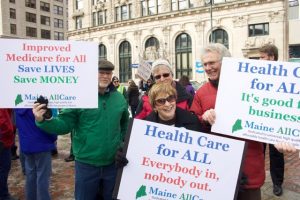 38,357 Individual Supporters of Universal Health Care in Maine
In the fall of 2010, a dozen individuals gathered around a kitchen table in a small office in Richmond to share their vision for health care for everyone in Maine. Since then, Maine AllCare supporters have given presentations around the state, organized forums, tabled at fairs and at the polls, visited farmers' markets, attended rallies and held countless conversations with friends, family, and neighbors. We have asked individuals around the state to sign a "yellow card" indicating their support for the cause of universal health care. As of July 2020, our list has grown to 38,357 supporters!
Please join us! Click on our virtual yellow card to add your name to this growing list.

Over 1,500 Facebook and Twitter Followers



We post our monthly newsletter and all of our events on Facebook, plus news and actions of interest regarding both state and national efforts to achieve universal health care. Follow us on Facebook and Twitter!
74 Business Endorsements
Businesses benefit from universal health care. Click here to learn more.
To join our list of business or organizational endorsers, please download and complete this form and send it to us.
Alice Knapp, Attorney at Law, Richmond
Annabella's Bakery & Cafe, Richmond
Arabica Coffee Company, Portland
Aragosta Restaurant, Stonington
Armaid Company, Blue Hill
Bath Natural Market
Berkshire Hathaway Northeast, Ellsworth
Big Top Deli, Brunswick
Birch Moon Midwifery & Lactation Care, Penobscot
Blue Hill Books
Blue Hill Co-op
Blue Hill Heritage Trust
Blue Hill Wine Shop
Blue Hill Health Collaborative
Blue Horizons Landscaping, Ellsworth
Bohemian Rose, Bath
Borealis Press, Inc., Blue Hill
Brian Van Emmerik, DDS, Stonington
Cafe Creme, Bath
Catherine Earley, CT
Central Maine Taxi, Winthrop
Columbia Classic Cars, Winthrop
Country Farm Furniture, Bath
Creature Quarters, LLC, Blue Hill
Deborah Lincoln House, Belfast
DLW Enterprises Inc, Sedgwick
Elders for Future Generations
Ellen Best, Attorney at Law, Blue Hill
Evergreen Home Performance, LLC, Rockland
Everything Kids, Winthrop
Fairwinds Florist, Blue Hill
Finestkind, Brunswick
Focused on You Salon, Ellsworth
Green Store, Belfast
Gulf of Maine Books, Brunswick
Handyman Moran, East Blue Hill
Indrani's, Brunswick
Kennebec Medical Rehabilitation, Augusta
Lucy's Granola, Blue Hill
MacRevival & Archangel, Ellsworth
Maine Family Planning
Maine Kyokushin Karate, Norway
Many Paths to Healing, Brooklin
Milliken Medical Center, Patten
Mitchell-Tweedie Funeral Home, Bucksport
Morning Glory Natural Foods, Brunswick
NEST Gift Shop, Brunswick
New England Fitness, Topsham
Now You're Cooking, Bath
Optimal Self Community Health and Wellness Center, Portland
Orientation Travel, Ellsworth
Over the Moon Boutique, Bath
Paradise Tatoo, Blue Hill
Paris Autobarn
Parks Performance, Winthrop
Parks Towing, Winthrop
Peninsula Electric Inc, Penobscot
Pugnuts Ice Cream Shop, Surry
Rooster Brother (Coffee Roaster), Ellsworth
Rosso Chiropractic, Southwest Harbor
Safe Harbor Tree Service, Penobscot
Sara Sara's, Blue Hill
SeaCoast Management (OceanView), Falmouth
Seaside Facials, Brooksville
Strong Brewing Co., Sedgwick
Surry Music Therapy Center, Surry
The Surry Store, Surry
The Bay School, Blue Hill
Sweet Henry's, Belfast
Take Action Bethel, Woodstock
A Touch of Style, Portland
Union Street Bakery & Cake Shop, Brunswick
Wellness Resources, East Blue Hill
Wendy L. Alpaugh DMD, Stonington
Wilbur's of Maine Chocolate Confections, Freeport
Wilson's Drug Store, Bath
Wyler's, Brunswick
16 Organizational Endorsements
AAUW Maine
Brothers of Christian Instruction, Alfred
Durham Friends Meeting
Greater Brunswick PeaceWorks
International Women for Peace and Freedom, Maine Branch
Maine Green Independent Party
Maine Nurse Practitioner Association
Maine State Nurses Association
MUUSAN, Maine Unitarian Universalist State Advocacy Network
Planned Parenthood of Northern New England
Preble Street Resource Center, Portland
Project FEED (food pantry), Portland
Oxford Hills Indivisible, Norway
Southern Maine Workers' Center, Portland
SPCA of Hancock County, Trenton
Veterans for Peace
Thank you ALL for your support!