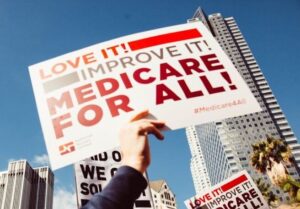 Exciting news! The Medicare for All Act, which expands on and improves Medicare and includes all U.S. residents, will be reintroduced in both the House and Senate on May 16. Although action in the House is unlikely this year, this is still an important opportunity to build support for Medicare for All and add co-sponsors to the bill.
THE DEADLINE FOR LEGISLATORS TO SIGN ON AS ORIGINAL CO-SPONSORS TO THE BILLS IS MAY 15.
Here's what you can do:
Contact Rep. Chellie Pingree to thank her for being a co-sponsor and urge her to push her colleagues to support the bills.
Jared Golden was a co-sponsor of an earlier Medicare for All bill but has since dropped his support. He has indicated that he won't co-sponsor the bill this year, but we can still tell Rep. Golden we want him to support Medicare for All! When he released his "healthcare roadmap" in 2019, he said,
"Medicare for All would transform our healthcare system to make it work for everyday people, instead of today's system that works to maximize profits for insurance and pharmaceutical companies, and the healthcare lobby. … pushing for universal health coverage is the right thing to do, and it's the right direction for America. I am committed to the long fight to ensure that all Mainer's [sic] and all Americans have affordable coverage, because an equal chance at a healthy life should be a right, not a privilege."
We want him to stand by these words, or explain to Mainers why he has backed away from this position.
Tell Senators Angus King and Susan Collins that we want—we need—Improved Medicare for All.
See below for contact info for all of our representatives.
Learn more about the 2023 Medicare for All Acts and action around them in a webinar hosted by Physicians for a National Health Program (PNHP). Healthcare NOW also has a great toolkit for urging our elected representatives to support the Medicare for All Acts.
Thank you!!!
Rep. Chellie Pingree
https://pingree.house.gov
Portland: (207) 774-5019
Waterville: (207) 873-5713
Washington, DC: (202) 225-6116
Email: Contact form
Rep. Jared Golden
https://golden.house.gov
Bangor: (207) 249-7400
Caribou: (207) 492-6009
Lewiston: (207) 241-6767
Washington, DC: (202) 225-6306
Email: Contact form
Sen. Angus King
https://www.king.senate.gov
Augusta: (207) 622-8292
Bangor: (207) 945-8000
Biddeford: (207) 352-5216
Portland: (207) 245-1565
Presque Isle: (207) 764-5124
Washington, DC: (202) 224-5344
Email: Contact form
Sen. Susan Collins
https://www.collins.senate.gov
Augusta: (207) 622-8414
Bangor: (207) 945-0417
Biddeford: (207) 283-1101
Caribou: (207) 493-7873
Lewiston: (207) 784-6969
Portland: (207) 780-3575
Washington, DC: (202) 224-2523
Email: Contact form