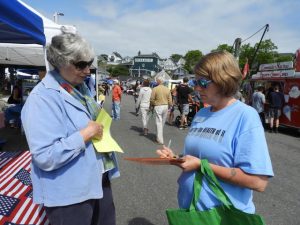 At Stonington Fisherman's Day Betsy Braunhut from the Ellsworth/MDI Chapter talks with a representative of Health Acadia obtaining her signature and a speaking engagement on Deer Isle.
Supporters of Maine AllCare are at fairs throughout the state this summer, including the Common Ground Fair, at candidate forums and at the polls in November sharing our mission and signing people on to support our work.
If YOU are a supporter, join your local chapter (or contact us directly) and sign on to help. We can't do this without your support and time. 98 cards were signed in Stonington that day. If you are interested in entering such data into our database, let our field organizers know. Every little bit helps!