Making the Case:
An International Perspective On The Paradoxes Of US Health Care
In research supported by The Commonwealth Fund and reported on the Health Affairs blog, ten Harkness Fellows in health care policy and practice reflect on the U.S. health care system.
"The United States undeniably provides some of the best health care and is one of the most innovative nations in the world. Financial investments in health and medical research are the envy of us all. Pockets of excellence can be seen in so many places. However, one of our first realizations is that there is no such thing as a single, unified, and coordinated US health care system—but rather a complicated and fragmented health care marketplace."

---
Chapter News
Maine AllCare is moving into a new phase this fall, hitting the road to talk with Mainers about health care!
Maine AllCare has received a small grant from the Maine Health Access Foundation to launch a canvassing effort, which is crucial to our overall success in bringing health care to all Mainers. This is an important project that engages residents across the state, underscoring that health care should be made available to all Mainers as a basic necessity. Maine AllCare chapters around the state will be focused on canvassing this fall.
Research shows that face-to-face communication is still the most effective way to reach and engage constituents, and build support. We have just a few short months to talk to Maine residents across the state and we need your help!
There are 3 ways to help:
Canvass Captains are crucial to a successful canvass, because we will be holding multiple canvasses across the state on the same days. Captains will help recruit small groups of canvassers. We will go over the canvass materials, explain in more detail the role of canvass captains, practice the rap, and knock on doors to try it out. Sign up here: Canvass Captain
Canvass Volunteers will be provided with a short survey, a FAQ, and educational handouts. We will partner you up if you prefer and provide training. Sign up here: Canvasser
Matching Funds are needed to supplement the grant we have received. Funds go to cover the costs of printing canvassing packets, holding trainings, and organizing volunteers. Matching funds give us the ability to expand our canvassing project and reach more residents of Maine. Make a contribution: Donate here
---
Coming events where you can find Maine AllCare:
Come to a chapter meeting. Monthly meetings are held in most chapters, and are open to all. Check out the Chapters section of our website to find out more.
Recent events: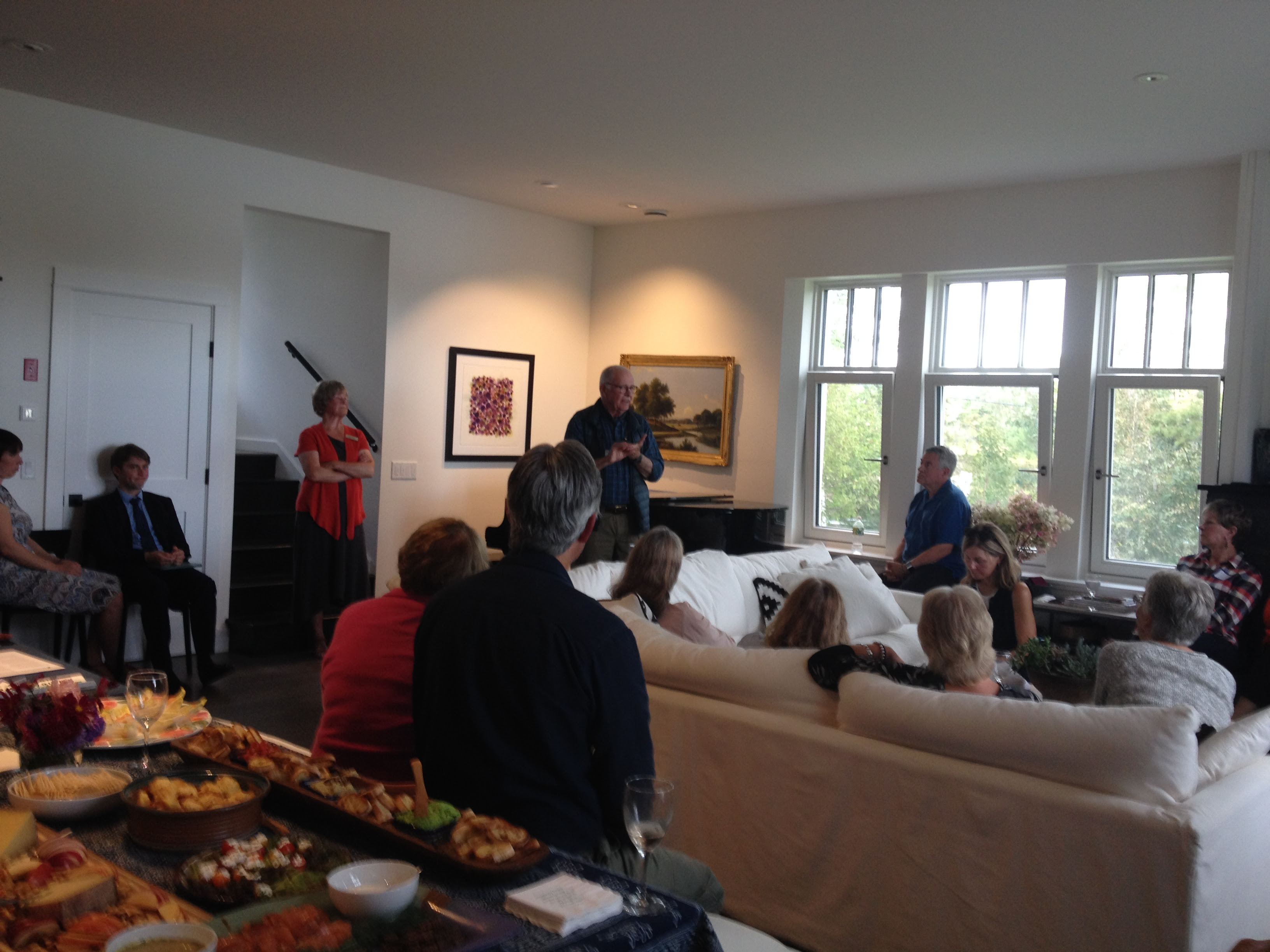 September 8, Blue Hill: House Party and fundraiser. The Downeast chapter hosted a house party at the home of a chapter member, with music, delicious food and wine, and a brief talk by co-founder Phil Caper followed by lively discussion (see photo at right). Thirty-five guests attended, and the event was successful in raising funds and connecting with supporters.
August 27, Brooks: Screenings of Fix It: Health care at the Tipping Point and Sick Around the World followed by discussion. Hosted by the Waldo County chapter.
---
Want to get involved? 
Come to a chapter meeting–we have 12 chapters around the state and meetings are open to all. If there's not a chapter near you, would you consider starting one?
Write a letter to the editor to voice your support for universal health care.
Volunteer to table at an event, enter data, make phone calls, or help to organize and publicize chapter activities–many hands make light work! Sign up here or contact us at info@maineallcare.org.
Make a donation to support Maine AllCare's work–any amount helps. Click here to set up a recurring donation, or make a one-time gift. Or mail to: Maine AllCare, PO Box 5015, Portland, ME 04101.
Host a house party in your area–a great way to raise funds and reach supporters. Contact your local chapter, or send a note to info@mainallcare.org.
If you'd like Maine AllCare to host a forum in your community, please contact us at info@maineallcare.org.
To learn more about our business program, contact Maine AllCare Field Director Abbie Ryder at aryder@maineallcare.org.
---
Three Easy Ways to Support Maine AllCare
Recurring Donation


Did you know that you can easily set up a monthly donation to Maine AllCare on our website? Recurring donations support our work for universal healthcare by providing steady funding, and allow you to "set it and forget it." Any amount makes a difference! Sign up on our website here, or visit our website and click on the donate button. Thank you!
Clynk

Here's what to do: Save your bottles and cans. Get a tagged Clynk bag from your chapter leader and fill it with returnables. Take the full bag to a Hannaford store, find the Clynk bin (it may be in the store lobby, or maybe in a small building in the parking lot). Bring your bag(s) to one of the doors and pass the barcode on the bag's tag in front of the "reader" light. This opens the door. Then place each bag in the Clynk bin, and you're done! Each donation may seem small, but they add up, especially when many people are "Clynk-ing" all around Maine.
Over the last two months, Maine AllCare supporters have recycled 7,326 containers!
AmazonSmile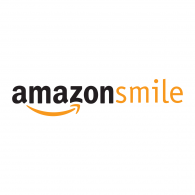 Did you know that you can support Maine AllCare every time you shop at Amazon? Just go to smile.amazon.com, and choose Physicians for a National Health Program as the receiving organization. (Maine AllCare, which is the Maine chapter for PNHP, will receive the funds, even though it says PNHP.) And here's the direct Maine AllCare link for AmazonSmile. Your shopping experience is the same, and Amazon makes a small donation for every purchase, at no cost to you.
---
Maine News and Voices:
In a recent letter to the Bangor Daily News, Dan Bryant discusses why public options are not a solution to the crisis in American health care.
"Public options appeal to many centrist politicians because they represent choice, and promise not to disrupt our present system." But in reality, "public options not only do not address many of the problems in our multi-payer health care system, they actually aggravate them."
Have you written, or would you like to write, a letter to the editor about health care? If you write, please send us a link. If you want help putting a letter together contact Dan Bryant at bryantdc57@gmail.com.
---
National News and Opinion:
Medicare-for-All Is Not Medicare, and Not Really for All. So What Does It Actually Mean?"
Phil Caper, retired physician and founding board member of Maine AllCare, was interviewed for this recent article in ProPublica.
"Some candidates use Medicare-for-all to establish themselves as bold progressives or moderate pragmatists. The Trump administration uses it as a point of attack. But voters don't know what it actually means, and none of the candidates explain it."
---
Health Care Story:
"UVA has ruined us': Health system sues thousands of patients, seizing paychecks and putting liens on homes"
The media has been covering stories of hospitals and health systems suing patients and former patients for unpaid medical bills–unfortunately this story is all too common. This story from Kaiser Health News and The Washington Post focuses on the University of Virginia Health System and one family's struggles with staggering medical bills.
"Patients find themselves unable to pay UVA bills for many reasons: They are uninsured or sometimes have short-term coverage that does not pay for treatment of preexisting illnesses. Or they are out of network, or have a 'high-deductible' plan — increasingly common coverage nationwide that can require patients to pay more than $6,000 before insurance kicks in."
Do you have a personal health care story? We invite you to share your story with us at info@maineallcare.org
---
Love Data?
Underinsured Rate Rose From 2014-2018, With Greatest Growth Among People in Employer Health Plans
In this piece from Feburary 2019, The Commonwealth Fund presented survey results showing health care coverage trends since the Affordable Care Act was adopted.
"People who are 'underinsured' have high health plan deductibles and out-of-pocket medical expenses relative to their income and are more likely to struggle paying medical bills or to skip care because of cost. Among adults who were insured all year, 29 percent were underinsured in 2018, up from 23 percent in 2014, according to results from the Commonwealth's Fund's latest Biennial Health Insurance Survey."
---
Thank You for Your Support!
We are building an informed and unified movement across our state to support a universal healthcare system. This newsletter, distributed monthly to more than 17,000 people, is just one small part of our effort.
Please forward this email to friends and family, and encourage them to sign up to receive the newsletter, and to show their support at our website.
Please consider giving today to fuel our work to return healthcare to its real mission: maintaining health and healing the sick.
You can also mail your contribution to: Maine AllCare, P.O. Box 5015, Portland, ME 04101.
Maine AllCare is a chapter of PNHP, Physicians for a National Health Program.
Your donation is tax deductible under Section 501(c)3 of the IRS code, to the full extent allowed by law.