---
Medicare Advantage: Digging Deeper
In our June newsletter we focused on problems associated with Direct Contracting Entities (DCEs), ACO-REACH, and Medicare Advantage, how these programs threaten traditional Medicare, and stories of people who've suffered because of them.
In response to that newsletter, several people reached out to let us know that with Medicare Advantage, the reality is more nuanced than we portrayed it. They said their Medicare Advantage plans have been good for them, with lower costs and more benefits including dental and vision.
So we dug deeper.
It's clear that Medicare Advantage has its, well, advantages, especially for those enrolled in plans offered by not-for-profit organizations such as Martin's Point in Maine. Medicare Advantage plans often cost enrollees less than traditional Medicare, and provide additional benefits. So what's the problem?
Unlike the small number of organizations such as Martin's Point that are nonprofit and often have ties to their local communities, most Medicare Advantage plans, by far, are offered by large, for-profit entities driven by increasing financial returns rather than taking care of people.
And that number is rapidly growing, as is the percentage of eligible Medicare beneficiaries enrolled in Medicare Advantage plans, which more than doubled between 2007 and 2022 (from 19% to 48%) according to an August 2022 report by the Kaiser Family Foundation. In 2022, two giant corporations, United Healthcare and Humana, account for nearly half of all Medicare Advantage enrollees.
This growth in for-profit Medicare Advantage plans, and the introduction of DCEs (now also known as ACO-REACH) are part of a strategic effort to privatize Medicare and wrest financial gains from what has been seen as a largely untapped "market."
Ed Weisbart lays out in a video from Physicians for a National Health Program (PNHP), and an interview on Code Wack, how for-profit, private equity firms see in Medicare Advantage and ACO-REACH an opportunity to make a lot of money, through "upcoding" and other practices, siphoning funds away from traditional Medicare. Funds that come from taxpayers' pockets.
For a deeper dive, check out a two-part blog post by Don Berwick and Rick Gilfillan, both former officials with the Centers for Medicare and Medicaid Services.
As Phil Caper, Maine AllCare co-founder and retired physician, has noted, the problem with Medicare Advantage plans is that they are "a threat to the idea of a publicly funded health care system because of their overwhelming for-profit, corporate sponsorship. … We must allow only nonprofit entities—not driven by an overwhelming and insatiable drive for ever-more profits—to function in health care."
Thank you to all who reached out about Medicare Advantage and the June newsletter.
If you'd like to share your experience, thoughts, or feedback with us, we'd love to hear from you! Contact us at communications@maineallcare.org.
---
A new beginning
This past summer, Maine AllCare launched HealthCare for All Maine, a 501(c)(4) organization focused on political advocacy such as ballot initiatives, campaigning for legislation, and supporting candidates for office. Maine AllCare, a 501(c)(3) organization, continues to focus on public education and building a movement for universal health care for Maine. The two organizations will work closely together.
---
Maine views
In an August 30 Maine Voices opinion piece in the Portland Press Herald, Debra Dunlap notes that GoFundMe and other crowdfunding platforms now play a central role in financing health care in the U.S. In donating to help others, we express our values of caring for one another, Dunlap says. But we have not yet sent a strong, unified message to our elected officials that we want these values to be built into our health care systems.
"Our elected leaders and medical organizations need to know that we expect our health care systems to reflect the shared value we practice every time we hit the 'Donate' button: Everyone deserves to get the help they need."
Would you like to write a letter to the editor in support of universal healthcare? Check out this guidance on how to write an effective letter—and why they are so important. And feel free to contact us if you'd like help!
---
Vote!
What's your voting plan?
League of Women Voters Maine has info on what's on the ballot in November and how to vote, and they're hosting candidate forums around the state.
PNHP's Health Care Voters Guide was created in 2020 but still has valuable resources, including a checklist for assessing candidates' health care views and policies.
---
PNHP resources 
Learn more and join the Physicians for a National Health Program (PNHP) campaign to protect traditional Medicare.
Maine AllCare has signed on as one or 250+ organizations supporting this effort.
---
Quote of the month
"The fact that they've taken my Medicare—that I've paid for all my life–and given it to [commercial health insurer] Highmark to make decisions about my Medicare is just unbelievable."
---
By the numbers
While just under half (48%) of U.S. seniors were enrolled in Medicare Advantage plans in 2022, Medicare Advantage received 55% of federal Medicare spending.
Source: KFF analysis
---
Turn your bottles and cans into universal health care!
Clynk is a simple way to support Maine AllCare's work—just fill up a Clynk bag with your returnable bottles and cans, put on a MAC sticker, and drop them off at a nearby Hannaford store.
Clynk bags are available at participating Hannaford stores for a small fee. To get MAC stickers, contact us and we'll put them in the mail to you.
Thank you to all who are participating! You have recycled more than 27,540 containers—enough to fill over 279 lobster traps!— and raised more than $1,400.
---
Have you gotten your Maine AllCare bumper sticker?
Contact us to request yours!
Are you already sporting a bumper sticker?
Send us a photo! We love to see the message spreading far and wide.
---
Looking for another way to help?
Monthly donors provide a steady foundation of support for Maine AllCare's work. Any amount makes a difference! Here's what an anonymous donor says about why she gives:
"Making a small monthly donation feels like feeding something good that I want to grow, in a way that I can afford. I want to see universal health care enacted for myself, my community, for everyone, and this is one small action I can take to help that happen."
It's easy to sign up as a monthly donor on our website.
---
What we're reading 
World's Happiest Ranking Goes to Finland for Fifth Year in a Row
Bloomberg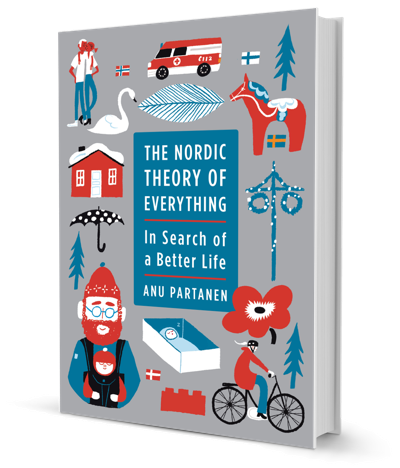 "The lesson of the World Happiness Report over the years is that social support, generosity to one another, and honesty in government are crucial for well-being."
The Nordic Theory of Everything
By Anu Partanen
"Partanen wants to open Americans' eyes to how much better things can be—to show her beloved new country what it can learn from her homeland to reinvigorate and fulfill the promise of the American dream—to provide the opportunity to live a healthy, safe, economically secure, upwardly mobile life for everyone."
---
Thank You for Your Support
Your donation is tax deductible under Section 501(c)3 of the IRS code, to the full extent allowed by law.
Maine AllCare promotes the establishment of publicly funded health care coverage for all Maine residents. This system must be efficient, financially sound, politically sustainable and must provide benefits fairly distributed to all. Maine AllCare advocates that health care, a basic necessity, be treated as a public good, since it is fundamental to our well-being as individuals and as a democratic nation.
Maine AllCare is a chapter of Physicians for a National Health Program.