Maine's Support for Universal Healthcare Is Growing!
In Maine and the USA, we are living in unusual and tumultuous times. Resistance, persistence, and advocacy. Healthcare is one of the daily topics in the news. Now is the time to get the word out about health care for EVERYONE in Maine. Healthcare rallies in support of the ACA have repeatedly become calls for "Improved Medicare for All in Maine: simple, sensible, and fair."
Films and YouTube videos.
If your group is interested in screening any of the films mentioned here please let us know. We will try our best to schedule a showing in your community along with a discussion on how we, in Maine, can achieve health care for everyone.
Now is the time: Healthcare for everybody
The powerful movie shows core problems with the US healthcare "system" and the obstacles to change. Interviews with key players and archival video from Senate ACA hearings and Vermont single-payer efforts are gripping, the graphics are helpful, and the filmmakers' first person healthcare disaster stories ground the film in 2016 realities.
One viewer said, "It underscored the disgraceful posture and behavior of Obama and the Democrats surrounding the enactment of the ACA, a law that leaves many uninsured or grossly underinsured, nicely demonstrating the moral bankruptcy at the law's core inasmuch as the law was largely shaped by the health insurance industry, which continues to game the system to avoid paying for needed care.'"
Another commented, "Now I get it- costs skyrocket because our system is profit-driven, so mega-merging institutions (like Mass General Hospital) raise prices, big Pharma is unrestrained, and insurance companies keep profits up through government collusion with network-narrowing, lemon-dropping and cherry-picking!"
Arrange for a local showing for your group!
Mainers Relate Experiences in Other Countries
Many people in Maine have lived in other countries where healthcare is universal. In this video they share some of those experiences. The contrast to our own experience here is stark. No one with such an experience prefers the United States "system." Certainly we can learn from their experiences. This is on facebook and therefore available any time you would like to use it/view it.
Health Care: We Can Fix It.
This YouTube video is just 11 1/2 minutes long. It compares Sweden and Seattle's healthcare. We could easily substitute Maine for Washington State. Take a look!
Ever wonder how our health care system stacks up to other leading nations? Americans live with more stress, expense and financial risk while a tried-and-tested solution lies close at hand. It's time to fix this. Find out what ties together Chile, Mexico, Turkey and the United States among industrialized nations.
Big Pharma: Market Failure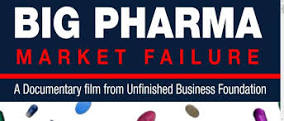 Big Pharma: Market Failure explores the problem of extreme drug prices in the US and how drug cost impacts on the public, on businesses and the overall US economy.
This documentary makes an effective business case for realizable change. It digs deep to answer key questions. How much do pharma companies really spend on research and development of truly innovative drugs? Do "free market" principles impact on drug prices and help control cost? Do the normal rules of business apply to the pharma industry? How do TV ads impact consumers and doctors?
Can we create a solution that makes business sense for employers and health sense for employees? It is a compelling drama that reveals the truth of pharma cost and what we can do about it.
FixIt
Now is the time: Healthcare for everybody
The Healthcare Movie: