Not only would a universal healthcare system provide coverage for all Mainers, it would save the state roughly $1.5 billion dollars per year, according to a recently released analysis by the Maine Center for Economic Policy (MECEP).
The analysis, conducted on behalf of MaineAllCare, was the subject of a Dec. 16 hearing before the Legislature's Joint Standing Committee on Health Coverage, Insurance, and Financial Services. MaineAllCare, a non-profit, non-partisan organization, is advocating for creating a publicly funded, cost-effective system in Maine and the new report provided a path toward fulfilling this goal.
"While a state-based public plan would require broad changes in the way healthcare coverage is paid for in Maine it would lower overall spending," MECEP concluded. "A state based public plan could also provide significant benefits to Maine residents, municipalities, and employers as well as bring fiscal stability to our healthcare providers and hospitals."
The report detailed the financial status of seven different domestic situations under the current healthcare system as well as under the proposed universal plan. In all but one scenario, the percentage of household income spent on health coverage was drastically lower with universal care. It was concluded that 80 percent of Mainers would experience an increase in household income due to savings on insurance and out-of-pocket expenses.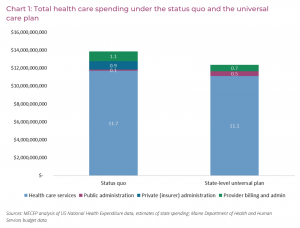 After the initial cost, annual health care expenses would drop from the $13.9 billion spent in 2017 to $12.4 billion. A third of the decrease is estimated to come from lower reimbursement rates, while the remaining $900 million would stem from administrative savings such as private insurance administrative bills and marketing.
Additionally, "municipalities, counties, and school districts would see a net savings of just over $214 million, or 8.4 percent of current property tax," according to MECEP. The savings could be fed directly back into the communities via more funding for education and public services as well as lower property taxes.
Employers would also benefit from these changes, having to pay the same amount or less for employee health care.
Implementation of the plan would cost "just under $5 billion," excluding state and federal funding. MECEP noted that $4 billion would simply be redirected premiums while the last billion would come from an undetermined form of taxation. The report suggested it could be "additional income tax on individual incomes over $200,000, increases in restaurant and lodging taxes, eliminating some state tax subsidies, broadening the sales tax to include certain services that are not currently taxed, restoring the estate tax, and increasing excise taxes on tobacco and alcohol."
Not only would universal care cost less, but it would fill in the gaps the current system has left, including those who are uninsured and those who have partial coverage. Mainers would all have access to medical, dental, vision, and hearing benefits without having to pay high premiums or to rely on an employer. This is especially relevant as only 61 percent of employees are eligible for a plan through their employer.
However, because the system will be greatly simplified, 2,931 administrative health jobs would be lost. This can be seen as the most significant consequence, considering the substantial benefits provided on all other fronts. The report does include wage replacement and retraining costs in the projected expenses.
(Note: this story was published in the Maine Beacon on January 2, 2020 and on the MECEP website on the same date)