Maine AllCare's Beth Franklin was the final speaker during "Our Lives on the Line" a live 67-minute digital town hall, organized by a group called Health Care Voter and held on Facebook on April 14, 2020.  During the town hall, all of the speakers agreed that healthcare is a human right,  and they stated that "universal access" was something they would champion. Rep. Heather Sanborn described how Maine small businesses struggle to provide health insurance for their employees. She notes that in our current system, with healthcare tied to employment, many people who lose their jobs lose their healthcare. Rep. Mike Sylvester spoke of the problems that arise in our current system, where healthcare is a for-profit commodity. He expressed outrage that 40,000 American healthcare workers were furloughed during this pandemic, because it was not profitable. He said that we and our leaders have a moral obligation to provide healthcare for our citizens. He challenged all of us to become activists, to tell our legislators that our healthcare situation is intolerable, and to demand that everyone has healthcare.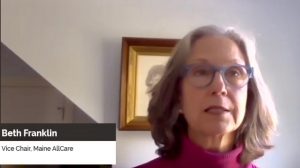 Beth Franklin wrapped up the town hall with lots of specifics. Beth referenced both the MECEP study commissioned by Maine AllCare and the survey that Maine AllCare completed for MeHAF. The bottom line: a single publicly-funded and privately-delivered health plan that covers all Mainers would save Mainers $1.5 BILLION per year. She challenged our legislators to "take the bold action that's necessary to move the state to a system of universal coverage." 
Some comments and questions submitted on Facebook during the town hall:
Leslie Miller – So many people here, talk to me and complain about the fact that their health care is awful, and complain they can't get any. But these same people vote for politicians who keep the health care from them.
Starr Cutler Gilmartin · How many people are home with Covid 19 or any illness because they can't afford a doctor or treatment? Is this the how we show we value the lives of our citizens? Call your representatives and demand a healthcare system that is not based on profitability. 
Mich Po ·  As a Canadian living in Maine with my American wife, I find it morally reprehensible that universal healthcare is not the next course of action either at a state level or a national level. I can rescue myself and my American wife tomorrow from the existential nightmare that is American "health insurance". No co-pays, no premiums, no co-insurance, no drug price gouging, no out of pocket anything. This is all available to me and family tomorrow, just a short 3 hours drive away. We shouldn't be talking about lowering costs but eliminating costs. Canada did this in 5 years, at the provincial level, not the national level, it can be done.
Elizabeth Solet · My family has more than $10K in medical debt, even though we have and have had insurance, on top of the premiums and co-pays we pay. I've lost heath insurance twice since moving back to Maine ten years ago due to losing a job through no fault of my own. I currently have an affordable, good-quality health insurance plan, and it makes a huge difference in our lives, and quality of life. I'm so grateful to have this, now, and I want everyone to have this peace of mind. We can do better for each other..
Maine AllCare encourages you to listen to this town hall, and then contact your state legislators, including Senate President Jackson and Speaker Gideon. Please tell them about the MECEP study and the Maine AllCare survey, and ask them to take up the universal healthcare bills during a fall session.