Maine AllCare November News & Updates
Universal health care: is it possible in Maine?

On October 31, Maine Public's Speaking in Maine featured a discussion and debate about health care options for Maine, with Dr. Phil Caper of Maine AllCare and Matt Gagnon of the Maine Heritage Policy Center. The debate ranged from universal health care to free-market options. The conversation was originally produced by WERU radio and aired on October 17.
"The two speakers saw different scenarios of what would result from the State of Maine adopting universal health care, with Mr. Gagnon fearing that people would leave the state in droves because of higher taxes. … Dr. Caper said Maine would attract new people by making health care premiums and co-pays disappear. Detaching employment from health care would encourage young entrepreneurs, freeing up economic growth as people become free to leave unsatisfying jobs."
Listen to the debate and discussion here.
---
Chapter News & Events
Updates on canvassing across the state

Maine AllCare received a small grant to launch a canvassing effort this fall to learn more about health care access and affordability, which is crucial to our overall success in bringing health care to all Mainers. This is an important project that engages residents across the state, underscoring that health care should be made available to all Mainers as a basic necessity.
Canvassing has been very successful and wrapped in mid-November. Results are being tabulated and will be shared as soon as they are available. Canvassers report that people have been eager to talk about health care and they have noted strong support from most of the people canvassed.
Coming events where you can find Maine AllCare:
Come to a chapter meeting. Monthly meetings are held in most chapters, and are open to all. Check out the Chapters section of our website to find out more.
Recent events: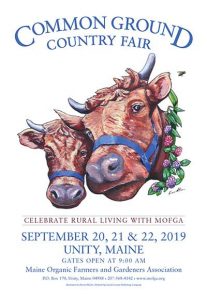 September 20-22, Common Ground Country Fair: Maine AllCare volunteers and board members joined Field Director Abbie Ryder at out table in the Social and Political Action tent. Abbie also presented a talk on Saturday on "Universal Health Care for Maine and the Nation." More than 860 people filled out the survey we are canvassing with this fall. A huge thank you to all who helped make the fair a success!
---
Want to get involved?
**Voice your support for a crucial step on the path to state-based universal health care plans**
As noted in the national news section below, U.S. Representative Ro Khanna introduced legislation on November 8 that would remove barriers to creating state-based universal health care systems.
Come to a chapter meeting–we have 12 chapters around the state and meetings are open to all. If there's not a chapter near you, would you consider starting one?
Write a letter to the editor to voice your support for universal health care.
Volunteer to table at an event, enter data, make phone calls, or help to organize and publicize chapter activities–many hands make light work! Sign up here or contact us at info@maineallcare.org.
Make a donation to support Maine AllCare's work–any amount helps. Click here to set up a recurring donation, or make a one-time gift. Or mail to: Maine AllCare, PO Box 5015, Portland, ME 04101.
Host a house party in your area–a great way to raise funds and reach supporters. Contact your local chapter, or send a note to info@mainallcare.org.
If you'd like Maine AllCare to host a forum in your community, please contact us at info@maineallcare.org.
To learn more about our business program, contact Abbie Ryder at aryder@maineallcare.org.
---
Easy Ways to Support Maine AllCare
Recurring Donation

Did you know that you can easily set up a monthly donation to Maine AllCare on our website? Recurring donations support our work for universal healthcare by providing steady funding, and allow you to "set it and forget it." Any amount makes a difference! Sign up on our website here, or visit our website and click on the donate button. Thank you!
Clynk is another simple and easy way to support Maine AllCare.

Here's what to do: Save your bottles and cans. Get a tagged Clynk bag from your chapter leader and fill it with returnables. Take the full bag to a Hannaford store, find the Clynk bin (it may be in the store lobby, or maybe in a small building in the parking lot). Bring your bag(s) to one of the doors and pass the barcode on the bag's tag in front of the "reader" light. This opens the door. Then place each bag in the Clynk bin, and you're done! Each donation may seem small, but they add up, especially when many people are "Clynk-ing" all around Maine.
AmazonSmile

Did you know that you can support Maine AllCare every time you shop at Amazon? Just go to smile.amazon.com, and choose Physicians for a National Health Program as the receiving organization. (Maine AllCare, which is the Maine chapter for PNHP, will receive the funds, even though it says PNHP.) And here's the direct Maine AllCare link for AmazonSmile. Your shopping experience is the same, and Amazon makes a small donation for every purchase, at no cost to you.
Maine News & Voices
Maine Voices: How does the Canadian health system work? Very well
In a November 3 letter to the Portland Press Herald, Doni Tamblyn, an American who lived in Canada for 21 years and now lives in Portland, outlines how the Canadian health care system works, and how switching to a single-payer system in the U.S. could reduce health care costs.
"When I was sick in Canada, I (like everyone else there) went to the doctor of my choice (no doctor was "out of network"); walked into a pleasant, inoffensively appointed office (i.e., lots of pastels); showed my wallet card; sat down next to a potted plant to read a two-year-old magazine for 15 to 20 minutes; saw my doctor, got treated, and went home.

That was it."
Have you written, or would you like to write, a letter to the editor about health care? If you write, please send us a link. If you want help putting a letter together contact Dan Bryant at bryantdc57@gmail.com.
---
National News & Opinion
What if the road to single-payer led through the states?
U.S. Representative Ro Khanna introduced legislation on November 8 that would remove barriers to states creating universal health care systems, "H.R.5010 – To amend title I of the Patient Protection and Affordable Care Act to authorize the establishment of, and provide support for, State-based universal health care systems that provide comprehensive health benefits to State residents, and for other purposes." The New York Times covered this legislation in a piece by Sarah Kliff on November 8.
"'The ideal would be that we have a full country with single-payer,' Mr. Khanna said. 'That is what I think either a Sanders or Warren administration would produce. But in the absence of that, it's preferable that we have some models of a single-payer system succeeding rather than no model at all.'"
What he envisions is similar to Canada's progression toward universal coverage. It began with a single province, Saskatchewan, which started hospital insurance in 1947. Other provinces followed, and within two decades, the entire country had government-provided health coverage."
---
Health Care Story
'I live on the street now': how Americans fall into medical bankruptcy
A November 14 piece in The Guardian outlines the stories of several Americans who have needed to file for bankruptcy due to mushrooming medical bills, despite having health insurance.
"'One of the biggest hurdles you face as a patient is just the sheer confusion of the process. You think you just show up and present your card, sometimes pay a copay, and that's it. You don't expect all these plan limitations and authorizations,' Hillman added. 'What are you going to do if your authorization gets denied? You don't really have a choice to not go get care. All these processes that are in the finest of fine print. And sometimes it feels like you are literally paying for nothing.'"
Do you have a personal health care story? We invite you to share your story with us at info@maineallcare.org
---
Love Data?

Benchmark Employer Survey Finds Average Family Premiums Now Top $20,000
A Kaiser Family Foundation report released on September 25, 2019, outlines increases in health care costs to individuals and employers in 2019, in comparison to trends in wages and inflation.
"Despite the nation's strong economy and low unemployment, what employers and workers pay toward premiums continues to rise more quickly than workers' wages and inflation over time. Since 2009, average family premiums have increased 54% and workers' contribution have increased 71%, several times more quickly than wages (26%) and inflation (20%)."
---
Thank You for Your Support!
Maine AllCare promotes the establishment of publicly funded healthcare coverage for all Maine residents. This system must be efficient, financially sound, politically sustainable and must provide benefits fairly distributed to all. Maine AllCare advocates that healthcare, a basic necessity, be treated as a public good, since it is fundamental to our well-being as individuals and as a democratic nation.
Please forward this email to friends and family, and encourage them to sign up to receive the newsletter.
You can also mail your contribution to: Maine AllCare, P.O. Box 5015, Portland, ME 04101.
Maine AllCare is a chapter of PNHP, Physicians for a National Health Program.
Your donation is tax deductible under Section 501(c)3 of the IRS code, to the full extent allowed by law.