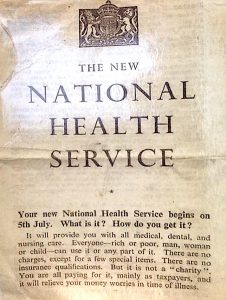 A postcard from 70 years ago in the United Kingdom touting their new health system. It was sent to one of our members from a friend who lives there.
It reads
THE NEW
NATIONAL
HEALTH
SERVICE
Your new National Health Service begins on
5th July. What is it? How do you get it?
It will provide you with all medical, dental, and nursing care. Everyone – rich or poor, man, woman or child – can use it or any part of it. There are no charges, except for a few special items. There are no insurance qualifications. But it is not a "charity". You are all paying for it, mainly as taxpayers, and it will relieve your money worries in time of illness.
Our friend writes: "I had surgery at the the end of May and I am feeling much better now! I'm very grateful for the NHS and for the treatment/care I received."
July 5, 1948 Aneurin Bevan, the health secretary, launched the NHS at Park Hospital in Manchester (today known as Trafford General Hospital). It was the climax of a hugely ambitious plan to bring good healthcare to all.