On May 21st, the Health Coverage, Insurance and Financial Services committee voted 7-3 "ought to pass" on an amended LD1045.  LD 1045 would establish the Maine Health Care Plan to provide universal health care coverage to all residents of Maine. It creates the Maine Health Care Board to establish and manage the plan. The amended LD1045 will make the formation of the Maine Health Care Board contingent on the passage of enabling legislation in the U.S. Congress. (Learn more about the proposed enabling legislation HERE.)  The committee also drafted a Joint Resolution to Maine's Congressional delegation, which will be submitted to the Legislature before the end of the session.
Over 70 supporters submitted written testimony on LD1045. Committee members also heard from countless supporters who had emailed them to ask for their support.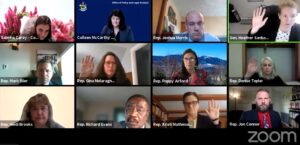 The need for change
During the work session, a number of committee members spoke frankly about the need to change our broken healthcare system. "This is the one bill I've heard the most about. I've heard from no less than 65 constituents of all ages. I don't think we can ignore the stories we've heard, and I do think we need to make some changes", said Rep. Mathieson (D-Kittery).
Rep. Denise Tepler (D-Topsham), House chair of the committee,  also acknowledged the need for change: "Our system is broken and we need to find a way to fix it. Allowing states to do this is a great way to see how a single-payer system might work."
Rep. Heidi Brooks (D-Lewiston), the chief sponsor of LD1045, responded affirmatively about the amendment. "I believe this would be a move forward. We do have a system that's not working for a lot of people. So many people lost their employer-related health care coverage during this pandemic. Even before this pandemic there were a lot of people who couldn't afford to see a doctor. They could be uninsured or underinsured, forced to make a difficult choice between health care, food, shelter. We just need to acknowledge this is a system that needs to be fixed."
Rep. Joshua Morris (R-Turner) voted "ought not to pass" but spoke in favor of change: "I agree that our system is broken. But I fundamentally disagree with the approach that we're taking. I want to go on record as saying we do need to do something, but I don't think this method is the correct method.
Your action will make a difference
Please contact your State Senator and State Representative TODAY and urge them to support the amended LD 1045 when it comes to the floor of the House and the Senate. Please also ask them to vote in favor of the Joint Resolution for State-Based Universal Health Care.  Find your legislators' contact information HERE.