Big news! Maine doctors speak up for publicly funded, universal health care
The Maine Medical Association adopted a new policy on health care reform at their annual meeting in Portland in early September, calling for a national single-payer plan, or failing that, action at the state level for publicly funded, universal health care.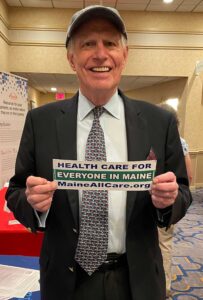 This is a big step, as only four other state medical associations have adopted similar resolutions and we consider the MMA's new policy to be the most detailed and robust of all of these. Maine AllCare's Phil Caper and Henk Goorhuis were members of the committee that worked on the policy for nearly two years. We wholeheartedly support the new statement and applaud MMA for their leadership.
The American Medical Association has yet to support universal health care (and has actively opposed it for much of its history), but momentum is building in that direction as medical professionals and students across the country push for the AMA to change its position — and state medical associations, which are AMA chapters, also take action.
The list of health care system failures outlined in the statement is fully aligned with issues Maine AllCare has been highlighting for more than 10 years. And the recommended solution — a federal single payer-type system or, as a fallback, a state-based universal system — is what we also support. Hearing this statement from Maine doctors who are on the health care front lines is especially powerful. 
The MMA annual meeting also featured a keynote by T.R. Reid, a nationally recognized filmmaker and author of "The Healing of America: A Global Quest for Better, Cheaper, and Fairer Health Care," and panel sessions with physicians who practice in countries around the world that have universal health care. Every physician on these panels, from Germany, Australia, Canada, and other countries, described challenges in their systems. And ALL said they are glad to work in a place where everyone has health care and profit-making doesn't drive the health care system. 
"As a society we have worn out the arguments for the status quo in health care," said Maine AllCare Board Chair Karen Foster. We hope that policymakers will heed this clarion call for broad reform that considers health care to be a public good, available to all."
---
The Maine Monitor, Portland Press Herald, Maine Public, and Bangor Daily News covered this news, and published several responses. See links below.
Maine Monitor, reported by Emily Bader (Sept. 11) and also published by the Bangor Daily and the Portland Press Herald:
Maine Medical Association says American healthcare system needs an overhaul
"'While we are among a small number of medical associations to do this, we think our actions represent a growing consensus of physicians, both in Maine and nationally, that it's time for every American to have healthcare insurance and to figure out how to do that in a way that's affordable and equitable,' [Dr. Erik Steele, immediate past president of the MMA] said."
Maine Public, reported by Patty Wight (Sept. 11):
Group representing Maine doctors urges lawmakers, governor to adopt universal health care
"The statement was prompted by growing frustration among physicians about the complexities of the current health care system that interfere with patient care 'that result in needless patient illness and suffering, and, in some cases, death,' says Dr. Erik Steele, immediate past-president of the Maine Medical Association."
Dr. Phil Caper's response in the Portland Press Herald (Sept. 17):
Kudos to Maine Medical Association's call for reform
"Sometimes, fundamental change is necessary to serve the public interest. Such change may require disruption and adaptation. In such times, we must follow our oath as physicians to 'put the patient first' and 'first do no harm' (including economic harm) ahead of all other considerations."
Dr. Daniel Bryant's response in the Bangor Daily News (Sept. 14):
Thinking about universal health care is changing, even among doctors
"On Sept. 8, at its annual meeting, the Maine Medical Association released its Revised Statement on Reform of the U.S. Health Care System. The document is the result of two years of work by its Ad Hoc Committee on Health System Reform, with extensive input from Maine physicians through listening sessions throughout the state and email and personal commentary."
—Liz Solet, Maine AllCare Communications