Giving Tuesday: 11/27/2018
Giving Tuesday is an international day of giving that takes place the Tuesday after Thanksgiving. It kicks off the holiday giving season and it's an opportunity for us to recognize the non-profits that we care about by donating to their cause.
This year, Maine AllCare is raising money to help fund the fight for universal health care in Maine. We made incredible progress on Election Day collecting over 15,000 support cards from Maine voters. This election has shown us that universal health care is a very real and attainable goal. When you donate on Giving Tuesday, your contribution will be matched by the Maine AllCare board as well as by Facebook. This means a $50 contribution will turn into $150!
We can all agree that our health care system is broken. People in the United States should not be dying because they can't afford health insurance. Our friends and family should not be losing their homes and filing bankruptcy because of medical debt. In the U.S., we pay the most money for some of the worst outcomes and the costs continue to rise. On behalf of the Maine AllCare board, we hope you will stand with us and contribute what you can to the cause.  And if you've missed Giving Tuesday, of course you can still contribute to the cause, throughout the year, via a single gift or a recurring monthly donation.
Please donate HERE: https://maineallcare.nationbuilder.com/donations
---
National News
Proponents and Opponents Outline Post-election Strategies for National Improved Medicare for All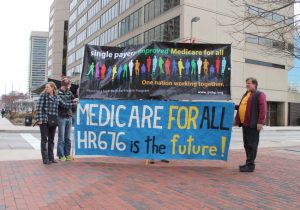 National support for Single Payer/ Improved Medicare for All (IM4A) is gaining enough traction such that the House of Representatives will likely hold hearings on it in the next session of Congress.  Our grassroots education and advocacy efforts are working!
After the elections, a national organizing call was held by supporters of Improved Medicare for All, to discuss strategy for 2019.  You can read about it HERE.  Members of Maine AllCare were on the call. Maine AllCare will be joining these national groups in February for a nationwide "barnstorm" to mobilize hundreds of thousands of supporters to call for their Members of Congress to support hearings, and to lobby key legislators to co-sponsor the legislation.
Of course, growing support for universal healthcare has mobilized the opposition as well. Please also read this very important article to learn how the opposition plans to message, creating "Fear, Uncertainty and Doubt" to weaken support for Improved Medicare for All.
Maine AllCare continues to hone our message and promote our principles.  Everyone will contribute, and everyone will benefit. Those who currently have good health insurance have nothing to fear. National Improved Medicare for All will eliminate copays and deductibles, and also cover vision and dental care.  With the elimination of insurance premiums and out-of-pocket expenses, most Americans will pay less and get more coverage.
Please support Maine AllCare and join our efforts!  Your donations of time and money are making a HUGE impact!
---
Maine News
Greg Kesich, editorial page editor of the Portland Press Herald writes about the challenge of choosing health insurance plans during his company's annual enrollment period:  "Like about half the people in the country, I have insurance through my employer, which means that I get left out of the discussion about health care reform because I'm supposed to be OK. But I would like to go on record to say that I am not OK, and I don't think I'm the only one."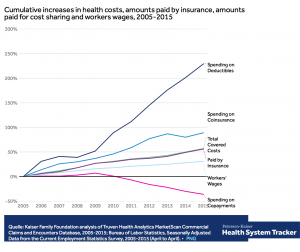 Maine AllCare supporter Michael Petit responds:  "A more efficient system could provide medical care for every American at little or no increase in costs."  https://www.pressherald.com/2018/11/25/letter-to-the-editor-americas-health-crisis-is-already-here/
The Task Force wrapped up its work in October, its many hours of research and hearings culminating in a report released this month.  Although many of its recommendations focused on "tweaks" to our current system, the Task Force also heard from several states that are working on developing substantive proposals for state-based plans that would cover everyone.  Maine AllCare is hopeful that significant forward progress will occur in the upcoming legislative session.  For more information about legislative proposals for healthcare reform, contact info@maineallcare.org
---
Thank You for Your Support!
An estimated 120,000 Mainers are uninsured and 200,000 or more are underinsured. We need your help to change that. We are increasing our effort to build an informed and unified movement across our state to support a universal healthcare system and help us carry the mission forward. This newsletter, distributed monthly to almost 15,000 people, is just one small part of our effort. If you like the newsletter, please forward it to friends and family, and encourage them to sign up to receive the newsletter and other updates.
If you agree that everyone should have the right to affordable health care, please give today to fuel our education and awareness work to return healthcare to its real mission: maintaining health and healing the sick.
PLEASE DONATE NOW Maine AllCare is a chapter of PNHP, Physicians for National Health Program. Your donation is tax deductible under Section 501(c)3 of the IRS code, to the full extent allowable, as you receive no goods or services in return.  
You can make an on-line donation at https://maineallcare.nationbuilder.com/donations
OR send your check to Maine AllCare, PO Box 5015, Portland, ME 04101.