Maine AllCare News – Summer 2018
---
Maine AllCare Ramps Up Statewide Effort
We've entered a new chapter at Maine AllCare.  We're pleased to introduce our first Executive Director and two Field Directors. As we ramp up to a statewide Medicare for All effort, having staff to work with our hundreds of volunteers and regional chapters is going to make a major difference.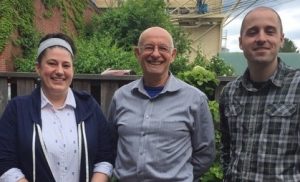 Phil Bailey is our Executive Director with a strong background in management, organizing and fundraising. He was recently the campaign manager for Jonathan Fulford, (CD2-ME), and before that was the major donor director for the Maine People's Alliance and is the former state director for Change That Works, a group that advocated for the ACA.
Abbie Ryder and Chris Cayer have previously advocated for universal healthcare with Maine AllCare. They are experienced community organizers and will be working to train volunteers and expand chapters across the state.
Maine AllCare, founded in 2010 is dedicated to the goal of universal, high quality and affordable health care for the people of Maine: a healthcare system that must be efficient, financially sound, politically sustainable and provide benefits fairly distributed. We currently have over 25,000 supporters and 9 regional chapters and with your help we will increase our membership over the next year.
This is a time when positive, forward looking ideas are taking hold. People want real change and health care is a leading issue. By building a strong grassroots effort we can win!  We ask for two things to help us launch our next phase: time and money. Can you volunteer an hour (or more) a week or a month? Volunteer once in a while? If you are already volunteering, thank you SO MUCH! Can you $upport our work on a monthly or annual basis. The foundation has been built, now we start the next chapter. Please join us!
---
CHAPTER NEWS
Maine AllCare's Grassroots are Growing!
Maine AllCare presently has over 20,000 supporters, with nine chapters and dozens of volunteers. Our volunteers are the heart and soul of the growing grassroots effort to bring healthcare to everyone in Maine. You can get involved right now by replying to this email and a staff member or chapter leader will be in touch.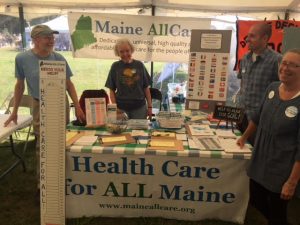 In addition, we are very excited about the return of our skilled organizing team of Abbie Ryder and Chris Cayer.  They plan to start Maine AllCare chapters in York, Lincoln, Franklin, Androscoggin, Aroostook, and Washington counties. We hope you will join a chapter and become a part of our growing group of Maine AllCare volunteers.  If you'd like to join a chapter, please contact Chris at ccayer@maineallcare.org
See You at the Fair!
As we enter the summer fair season, Maine AllCare plans to host tables at as many fairs throughout the state as possible. We will be at the Clam Festival, the Festival of Nations, the Brunswick Peace Fair, the Machias Blueberry Festival, the St Francis Fair, the Blue Hill Fair, and the Common Ground Fair, with more fairs to be added. For more information, visit Maine AllCare's website calendar. We invite you to visit us at the fair, and to sign-up to volunteer to support our grassroots effort!  If you would like to help to staff a table at your local fair, please contact Chris at ccayer@maineallcare.org
---
STATE NEWS
Bird-dogging our Maine candidates on their support for Medicare for All
Congresswoman Chellie Pingree, an original co-sponsor of HR676 and strong supporter of Medicare for All, has joined the newly-formed Congressional Medicare for All Caucus. Formed by Reps. Keith Ellison and Pramila Jayapal, the caucus will "serve as a forum to raise awareness and inform members of Congress and their staff about the mechanics of a single payer system; discuss, debate and solve pressing policy questions regarding H.R. 676; hold briefings with experts that help answer questions and build the movement; and offer centralized resources to help constituents and partners who are fighting to move this campaign on the Hill and in our districts".  Maine AllCare looks forward to working with Congresswoman Pingree in the fight for National Improved Medicare for All.
Congressman Bruce Poliquin, noticeably absent in the healthcare debates, is facing a strong challenge from Jared Golden, who is an advocate for Medicare for All. Jared has received the backing of National Nurses United, the nurses' labor union that is leading the fight for universal healthcare.
Zak Ringelstein, U.S. Senate candidate, is also on record in his support for Medicare for All. Senator Angus King unfortunately has been noticeably silent on the push for universal healthcare, and has declined to support S. 1804, the Medicare for All Act of 2017, which has thus far earned the co-sponsorship of 16 U.S. Senators.
Action step: "Politicians are like the birds–they try to keep their positions hidden behind vague rhetoric. Using tightly crafted questions, the successful bird-dog forces candidates to reveal their position on an issue." – Move to Amend, Tips for Birddogging Candidates. 
We're asking you to identify your candidates (of all political stripes), show up for their public appearances, and ask them to commit to sign onto single payer legislation (or take additional action if they're already on the bill). This is a strategy called "bird-dogging". Try to capture them on video.
If you are a successful bird-dogger, please send your videos to Maine AllCare at info@maineallcare.org and we will circulate your videos nationally!  For Healthcare-NOW's Guide to Bird-dogging, click here.
---
Mainecare expansion: the battle continues
The political battle over the expansion of Maine Medicaid (Mainecare) continues.  In his latest comments on expansion, Governor LePage stated: "I will go to jail before I put the state in red ink. And if the court tells me I have to do it, then we're going to be going to jail."  He neglects to point out that the Legislature has indeed provided funding for Medicaid expansion, and that he is defying both the courts and the legislative budget process in his opposition.
July 2nd marked the day that Mainers, according the law passed by voters last November, can apply for health coverage under expanded Medicaid (MaineCare in Maine) and receive coverage if they meet income eligibility requirements:
Household Size                Monthly Income
1                                          $1,397           
2                                          $1,893           
3                                          $2,390           
Action steps: Protect your right to coverage. It you think you might be eligible or are not sure, we encourage you to apply for Mainecare coverage as soon as possible. Applying will protect your right to coverage for health care services provided on or after July 2, 2018. Call Consumers for Affordable Health Care if at 1-800-965-7476 if you need assistance in applying for Medicaid (MaineCare). 
If your legislator voted for the attempt to override the governor's veto, please contact them to thank them for their efforts.  If your legislator voted to ignore the will of the people of Maine, please contact them to let them know that you will remember them at the polls in November.
Maine AllCare has been part of a broad coalition of organizations in support of Medicaid expansion.  Three of the four candidates for governor – Mills and independents Terry Hayes and Alan Caron – support Medicaid expansion, while Republican Shawn Moody opposes it.
---
Southern Maine Workers Center battles to oppose LePage attacks against struggling families

The Southern Maine Worker Center (SMWC), Maine AllCare, and National Nurses United-Maine State Nurses Association are coalition partners of the Healthcare is a Human Right (HCHR) Steering Committee. As partners, we continue to support one another in our work on healthcare issues. SMWC is also a strong advocate of a proposed ordinance mandating paid sick time for workers in Portland.
SMWC Statewide Campaign Organizer Melissa Dunn recently traveled to Bangor to meet the Maine AllCare Chapter to talk about ways we can collaborate on highlighting the need for healthcare and sharing SMWC's Enough for All: A People's Report on Healthcare. They also shared a Healthcare Cantastoria by artist Emily Simmons of the Beehive Collective and collaborators. Cantastoria is an age-old, story telling technique through art and other forms to help create awareness of political issues and spark dialogue.
Southern Maine Workers' Center also described another of its fights in healthcare for Maine People. The LePage Administration and Department of Health & Human Services have submitted an 1115 Waiver to the Centers for Medicare and Medicaid Services and it has been approved. The 1115 waiver is used to make improvements to Medicare and Medicaid for healthcare coverage. Instead, the State of Maine is seeking to use the waiver to restrict thousands of people from accessing healthcare through: emergency room fines for non-emergency services, capping assets which could jeopardize the ability to save money for retirement, home or car repairs. The waiver would also impose work requirements to folks in order to receive healthcare, a burdening policy already being utilized for Supplemental Nutrition Assistance Program (SNAP) and other programs with harsh personalities if the requirements are not met.
"The only way to win the Human Right to Healthcare for all Maine people is by coming together to oppose attacks intended to burden struggling families. We truly are on borrowed time and anticipate the Waiver being approved any day now", said Melissa.
SMWC needs your support in whatever capacity you can give. If you would like to know more about how you can get involved with SMWC, please contact Drew Joy at drew@maineworkers.org or call (207) 402-0671.
---
NATIONAL NEWS
Medicare for All as a political campaign theme
On June 22-24, hundreds of activists gathered in Minnesota for a weekend of inspiration and strategy to win single-payer national healthcare! Attempts by Congress and the President to undermine existing healthcare programs have awoken a sleeping giant, and the American people are deciding that they don't want to fight just for the right to buy a lousy health insurance plan. Support for Medicare for All has reached unprecedented levels. Healthcare-Now is one of several organizations is leading the effort to construct a national campaign to win Medicare for All that can move us from resistance to victory on a National Level.
Three supporters from Maine AllCare and four nurses from the Maine State Nurses Association traveled to the conference, attending workshops on organizing and making the case for universal healthcare. Delegates from states which are organizing for state level plans also gathered to share their plans and goals.  You can find Maine AllCare's report here.
Many people shared inspiring stories and offered suggestions for strategies and messaging to win healthcare for all.  For a summary of the conference, and videos of speeches and workshops, visit the conference "wiki" at https://wiki.healthcare-now.org/2018_Single-Payer_Strategy_Conference.
The conference highlighted two Minnesotans who are champions of universal healthcare: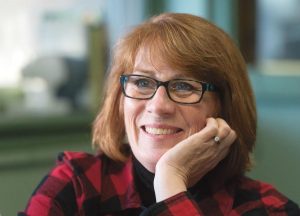 Sen. Erin Murphy, a nurse who is the DFL-endorsed candidate for Governor, and Sen. John Marty, who has written a comprehensive piece of state legislation which would establish a Minnesota Health Plan.  Senator Marty has written an excellent and well-researched book explaining his plan, which is an excellent resource for states working for state level universal health plans.
Sen. Marty's book, "Healing Health Care" is available for purchase at but also available for FREE download at https://mnhealthplan.org/download-healing-health-care/
Recommended links from the Conference:
Minnesota State Rep. Erin Murphy, nurse and DFL-endorsed candidate for Governor of Minnesota: Running on Medicare for All
Michael Lighty (National Nurses United): "Our Political Moment and the Pathway to Victory"
U.S. Congresswoman Pramilla Jayapal: "It is Time for Medicare for All"
Panel: Medicare for All as a Political Campaign Theme
---
What IS Improved Medicare for All?
"Let's end the confusion: Improved Medicare for All is a well designed, single payer national health program" – Dr. Don McCanne
From the editor:  Maine AllCare recommends that you read this important blog in its entirety. With the increasing popularity of single payer universal healthcare, also known as "Medicare for All", a number of politicians and economists have embarked on a campaign of deception, designed to create confusion. Many proposals dubbed "Medicare for All" are actually incremental or inadequate proposals that fall far short of universal healthcare. End the confusion: improved Medicare for all is a well designed, singlepayer national health program.
http://pnhp.org/blog/2018/07/05/krugman-redefines-medicare-for-all-but-gets-it-wrong/
The New York Times, July 3, 2018
Radical Democrats Are Pretty Reasonable, by Paul Krugman
…Medicare for all is a deliberately ambiguous phrase, but in practice probably wouldn't mean pushing everyone into a single-payer system. Instead, it would mean allowing individuals and employers to buy into Medicare – basically a big public option. That's really not radical at all…
https://www.nytimes.com/2018/07/03/opinion/radical-democrats-are-pretty-reasonable.html
===
Vox, July 2, 2018
The "pleasant ambiguity" of Medicare-for-all in 2018, explained
Are we talking about single-payer health care or something else?
By Dylan Scott
Democrats across the country are running on three simple words, recognizable to every American: Medicare for all.
In Democratic primaries around the country, Medicare-for-all candidates are winning…
What does "Medicare-for-all" actually mean?
Historically, Medicare-for-all has meant single-payer health insurance, a national government-run program that covered every American and replaced private coverage entirely, similar to the government-run health care programs in Canada and some European countries. Then-Rep. John Conyers (D-MI) first introduced the Expanded and Improved Medicare for All Act in 2003. It's now sponsored by Rep. Keith Ellison (D-MN) and it is still a single-payer proposal.
But these days, other plans are falling under the Medicare-for-all umbrella…
The full article: https://www.vox.com/policy-and-politics/2018/7/2/17468448/medicare-for-all-single-payer-health-care-2018-elections
===
Comment by Don McCanne: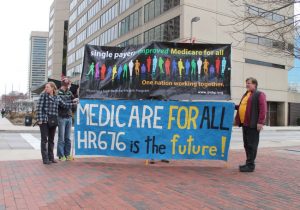 "Medicare for all… would mean allowing individuals and employers to buy into Medicare – basically a big public option." Who says? Well Paul Krugman and many others. This is not simply a debate about labels. This is a debate about fundamental policy. Are we going to accept the status quo with the tweak of a public option, or are we going to address the fundamental defects in our system that have driven up costs, perpetuated mediocrity, and left tens of millions vulnerable with impaired access to health care with all of its consequences and often with intolerable financial hardship?
This is similar to the debate that took place within the Democratic Party just before Hillary Clinton and Barack Obama began jockeying for the 2008 presidential nomination. The Democratic Party machine was in complete control of the policy debate on health care reform. The neoliberal party elite had decided that we were going to "build on what works" – employer-sponsored and union-supported plans – and reject single payer based on their concepts of what was politically feasible. Those of us advocating for the expanded and improved Medicare for all single payer approach were ejected from the conversations (often rudely so – they were in charge!).
Similarly, with the contest for the 2016 Democratic presidential nomination, the debate at the platform committee confirmed that the battle had not changed. The neoliberal leadership, represented by Neera Tanden, was successful in rejecting the single payer Medicare for all plank.
Tanden, of the Center of American Progress, has continued the fight for control of the policy debate by releasing their new proposal, "Medicare Extra For All." Although some of the tweaks proposed seem beneficial, it basically continues the current dysfunctional, fragmented financing system, but with one important political change. They have stolen the "Medicare for all" label! This has contributed to the ubiquitous deception that the public option is Medicare for all. When the current candidates campaign on Medicare for all but behind the scenes are supporting an option to buy into Medicare while accepting campaign funds from the insurance and pharmaceutical industries, we need to call them on their deception.
It is no wonder the public is confused, even if they do not realize it. When Nobel laureate Paul Krugman jumps in and says Medicare for all is allowing individuals and employers to buy into Medicare as a public option, then we know that the political campaigns are corrupted with deceptions. How can we get the public to understand that a well designed, single payer national health program – a bona fide Improved Medicare for All – is the reform that they crave?
---
Are You a Maine AllCare News Fan?
Please Share this Newsletter and Make a Donation to Help Us to Continue Our Work!
If you enjoy receiving the Maine AllCare News, please forward the link to this newsletter to friends and relatives who may be interested in reading about our activities.
For more Maine AllCare News and Events, please visit our website: www.maineallcare.org
Thank you for your generosity!