Maine AllCare News – September 2018
---
This campaign season, don't fall victim to "FUD"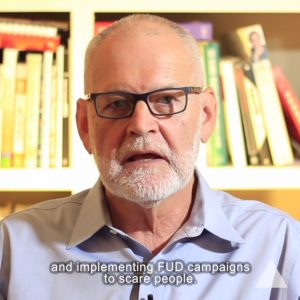 Healthcare is a number 1 issue among Maine voters. In Maine it will be interesting to see what positions candidates take, and how they will respond to healthcare questions and criticisms. Will they move towards Improved Medicare for All, or advocate a public option or keep the broken system we currently have? Are they for or against the Medicaid expansion voted by a clear majority in 2016? Voters want solutions not just talk.
For the next two months we will also be experiencing the media coverage of healthcare issues raised by candidates during their campaigns, along with the expected bombardment by advertisements on TV and social media.
Last month the conservative think tank Mercatus Center released its study of national single-payer healthcare, in which the $33 trillion 10-year cost quickly grabbed headlines. The news media had fallen victim to "FUD". Jared Golden, in the midst of a hotly contested race against Bruce Poliquin has already been the target of a similar "FUD" campaign related to his support for Medicare for All.
In this short video, former insurance executive Wendell Potter talks about "FUD", and how the health insurance industry uses FUD to scare people about universal health care. In presenting its analysis, the Mercatus Center emphasized the total annual cost of improved Medicare for All, ignoring the bottom line from their study: Improved Medicare for All would SAVE $2 TRILLION over 10 years!
Don't be a victim of "FUD"! Maine AllCare board member Dr. Phil Caper's Op-ed, published in the Bangor Daily News on August 26th, explains the BENEFITS and BIG SAVINGS that would occur under a healthcare system that replaced insurance with taxes. It provides an excellent reality check and response to the Mercatus study. Also, visit our FAQ page online, and arm yourself with facts to confront the naysayers. This video by Dr. Aaron Carroll further explains the $2 trillion cost savings in the Sanders Medicare for All plan.  For more analysis, see the links in National News below.
We invite you to join with Maine AllCare as we advocate for Improved Medicare for All for Maine, the REAL SOLUTION that will save money and save lives, providing necessary healthcare for EVERYONE in Maine. We appreciate your support. You can contact info@maineallcare.org to volunteer, or make a financial donation online HERE.
---
A Message from Phil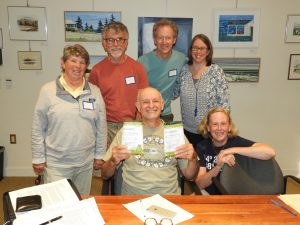 It has been a very busy two months for Abbie, Chris and myself. We are super encouraged by the reception and response from members and we've already participated in 14 events this summer, helped start three new chapters, and with your help, collected over 1,000 support cards. We're planning more outreach, a big election day push, house parties to kick start our fundraising and continued ramping up to the next phase.
      Whether we initiate a referendum or our opposition does, we feel there will be one and we need to gather more support and build a movement that can't be stopped. I was reminded that marriage equality didn't happen overnight and that we're still working on civil rights. This is an issue we can run and win. Please jump in, join us and we will get there sooner!
Thank you and feel free to contact me anytime,
Phil  (pbailey@maineallcare.org)
---
Visit Maine AllCare at a Fair or Festival Near You!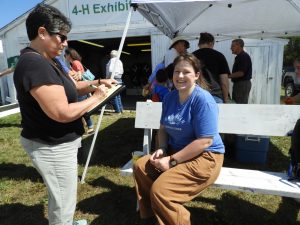 Chapter members have been active at tables and booths at fairs throughout the state.
In addition to gathering signatures from supporters at fairs and festivals, Chapters are holding monthly meetings and potlucks, showing films and hosting house parties. Maine AllCare supporters will be staffing a table at the Maine Medical Association conference in Bar Harbor September 7-9, followed by tabling at the Common Ground Fair on September 21-23, at the Consumers for Affordable Health Care conference on October 1, and at the Pumpkinfest in Damariscotta October 5-8.
Maine AllCare volunteers have gathered almost 27,000 signatures from Mainers who want to bring healthcare to everyone in Maine.  We hope to meet our goal of 40,000 signatures by the end of 2018!
For a full listing of meetings and events, visit our Facebook page or view our online calendar of events.
---
LTE's highlight strong Maine support for Improved Medicare for All
A number of Op-Ed's and letters to the editor in support of universal healthcare have appeared in Maine newspapers this summer.  If you write a letter to the editor, please notify our organizer Chris Cayer so he can post it to our Facebook page for wider circulation.  Keep those letters and stories coming!  Here is a partial listing with links to some of the recent letters:
Bangor Daily News – Health Care Worries, by Cynthia Pernice  http://bangordailynews.com/2018/09/04/opinion/letters/wednesday-sept-5-2018-speak-up-for-clean-air-health-care-for-all-collins-fooled-again/
The Times Record: Mills Should Champion Universal Health Care, by Jesse McMahon  https://www.timesrecord.com/articles/opinion/letters-414/
The Free Press: Single Payer Health-Care by Andrew Stevenson – Everybody is covered; everybody contributes; everybody wins.  https://freepressonline.com/Content/Default/Week-of-Sept-6/Article/Single-Payer-Health-Care-/-3/948/60698
Bangor Daily News – Op-Ed by Maine AllCare board member Phil Caper, MD  http://bangordailynews.com/2018/08/26/opinion/contributors/medicare-for-all-can-control-rising-costs-improve-health-outcomes/
Bangor Daily News – Europe Gets Health Care Right, by Frank Owen https://bangordailynews.com/2018/08/30/opinion/letters/friday-aug-31-2018-change-drug-rules-andrews-for-maine-senate-europe-gets-health-care-right/
Portland Press Herald – Medicare for All is Affordable, Practical and Responsible, by Michael Bacon https://www.pressherald.com/2018/08/27/letter-to-the-editor-medicare-for-all-affordable-practical-and-responsible/
Portland Press Herald – Medicare for All Makes Fiscal Sense, by Dan Bryant  https://www.pressherald.com/2018/08/13/letter-to-the-editor-medicare-for-all-bill-makes-fiscal-sense/?rel=related
---
Chapter News: three NEW chapters!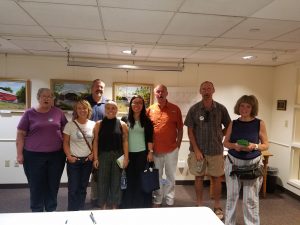 This summer Maine AllCare launched new chapters in Kennebunk, in the Sacopee Valley and in Lincoln County. Chapters now cover the southwestern corner of Maine, all the way downeast to Hancock County.  We are also hoping to establish Maine AllCare chapters in Washington and Aroostook counties.  If you would like to bring together a group of supporters of healthcare for everyone in Maine for a potluck, to watch a video about healthcare, or to hear a speaker from Maine AllCare, please contact our organizers Chris and Abbie at info@maineallcare.org.
Want to attend a Maine AllCare chapter meeting or event? Please contact us for more information at info@maineallcare.org or visit our website calendar of events.  You can also find us on Facebook!
Want to join a chapter? Visit  https://maineallcare.nationbuilder.com/joinchapter
---
Maine Legislative Task Force on Health Care



The
Maine Legislative Task Force on Healthcare Coverage for All of Maine
formed three subgroups which continued their meetings throughout the summer.  They will report to the next full meeting of the Task Force which is planned for
September
12
th
, 9:30 am – 12:30 pm, Cross Building, Room 220, Augusta.  The meeting is open to the public.  For more information about the Task Force, or to receive email notices of meetings, please contact Colleen McCarthy Reid, Legislative Analyst for the Joint Standing Committee on Insurance and Finance Services at
colleen.mccarthyreid@legislature.maine.gov
A more complete update on work of the Task Force will appear in the October newsletter.
---
National News Articles



---
Maine AllCare Thanks You for Your Support!
106,000 Mainers are uninsured and an estimated 200,000 or more are underinsured. We need your help to change that. We are increasing our effort to build an informed and unified movement across our state to support a universal healthcare system and help us carry the mission forward. This newsletter is just one small part of this effort. If you agree that everyone should have the right to affordable health care, give today to fuel our education and awareness work to return healthcare to its real mission: maintaining health and healing the sick.
PLEASE DONATE NOW Maine AllCare is a chapter of PNHP, Physicians for National Health Program. Your donation is tax deductible under Section 501(c)3 of the IRS code, to the full extent allowable, as you receive no goods or services in return.  
You can make an on-line donation at https://maineallcare.nationbuilder.com/donations
OR send your check to Maine AllCare, PO Box 5015, Portland, ME 04101.