Maine AllCare November 2017 News

Join Maine AllCare's Election Day Advocacy Effort! We need your help!
On Election Day, Tuesday November 7, Maine AllCare needs your help in our effort to educate Maine voters and collect support cards. This is a huge opportunity to help us build our movement and move one step closer to healthcare for all. Maine AllCare will be at over fifty polling locations with the help of 200 volunteers and we have a lofty goal of collecting 3,000 support cards on Election Day.
To volunteer for this effort, please contact Chris Cayer at https://maineallcare.nationbuilder.com/e-day
With a successful YES vote on Question 2, Maine will reduce the number of uninsured by 70,000 people. A universal health plan for all Mainers will reduce the number of insured to ZERO.
On Tuesday, November 7th, vote YES on Question 2 AND volunteer to help Maine AllCare to gather signatures in support of healthcare for all.
———————————–
Vote YES on TWO!

Federal funds were earmarked for Maine 3 years ago that would provide health insurance to 70,000 Mainers by expanding Medicaid coverage. The Maine Legislature passed legislation five times to put these federal funds to work for Maine. The Governor has vetoed each bill.
No one should be blocked from accessing affordable health insurance, especially when so many need healthcare or medicine and there are simple ways to improve the system. You can find out more about the many benefits of Maine Medicaid expansion here.  The Maine Center for Economic Policy has also published a map of the benefits of Medicaid expansion, where you can learn about the positive impacts for your county.
Maine AllCare is part of a coalition of advocates, providers, patients and organizations that are supporting Question 2. If you would like to participate in the "get out the vote" effort on behalf of Question 2, please contact Jennie Pirkl – Question 2 campaign manager at jennie@mainepeoplesalliance.org
____________________________________________________
"My child's depression swallowed her whole. I took the steps to get her help. Then the bills came."
       Even when someone with good insurance is a skilled navigator of our complex and dysfunctional healthcare system, she can be overwhelmed by the stresses and costs that accrue when finding and receiving care for serious illnesses. This powerful story by Suzanne Carver, originally published in the Bangor Daily News, articulates some of the problems associated our healthcare system, problems that would be eliminated with a single publicly funded healthcare plan for all.
We have published the full story on our new website.  If you have a personal story you would like to share, please contact us at news@maineallcare.org
Eighteen months ago, our pre-teen daughter's depression and anxiety swallowed her whole. We watched her sink deeper and deeper each passing week, powerless to pull her back. Night after night, I lay awake terrified for my daughter's well-being, her future, her very life….
…Intake personnel and our insurance company's database verified the clinic was in network, and we began treatment. My daughter saw a different psychiatrist each visit (they rotate through, often via telemedicine, to fill the enormous need), restarted weekly therapy sessions and new medications. She slowly improved and began to look like our daughter again.
Then the bills started coming.
Do you know what's worse than lying in bed replaying the hour you spent holding your sobbing child on the floor and cataloging ways she could harm herself in your house? Lying in bed with all those thoughts, plus the concern of how to pay for the help she so desperately needs….   Read the full story here.
____________________________________
Maine Voices: The time for universal health care and single-payer is near
On October 13, 2017, the Portland Press Herald published an important opinion piece written by Dr. Richard Dillihunt. Dr. Dillihunt is a retired surgeon, and a longstanding staunch advocate for universal healthcare. He has testified several times at the Maine State Legislature, most recently in May, on behalf of Rep. Heidi Brooks' "Healthy Maine Act" to provide universal healthcare to everyone in Maine. (photo: Dr. Dillihunt, 2000)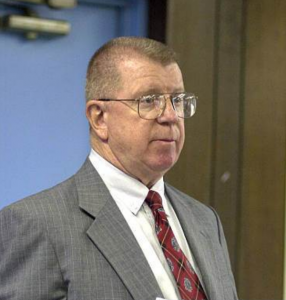 "Seventeen years ago, I wrote an op-ed for the Maine Sunday Telegram headlined "Universal Medicare: The time is coming" (Nov. 19, 2000). Apparently I jumped the gun, as it has not taken place yet.
Now I feel like a cicada, an insect that looks like a huge fly, emerging after 17 years of hibernation under the bark of a tree and emitting unique and characteristic shrill buzzing sounds to attract attention to itself. Now the sounds come from independent Vermont Sen. Bernie Sanders. The concern of our nation regarding health care for all is reaching a crescendo, and we need to address this. The resounding will of the people should be recognized and acted upon….."   For the full article, visit: www.pressherald.com/2017/10/13/maine-voices-the-time-for-universal-health-care-and-single-payer-is-near/
______________________
Thank You for Your Support!
106,000 Mainers are uninsured and an estimated 200,000 or more are underinsured. We need your help to change that. We are increasing our efforts to build an informed and unified movement across our state to support a universal healthcare system and help us carry the mission forward.  Please give generously today to fuel our education and awareness work to return healthcare to its real mission: maintaining health and healing the sick.
DONATE NOW. Maine AllCare is a chapter of PNHP, Physicians for National Health Program. Your donation is tax deductible under Section 501(c)3 of the IRS code, to the full extent allowable, as you receive no goods or services in return.  
You can make an on-line donation at https://www.classy.org/checkout/donation?eid=139119
OR send your check to Maine AllCare, PO Box 5015, Portland, ME 04101.
Visit our website at www.maineallcare.org