Maine AllCare News – May 2018
---
BELFAST LAUNCH PARTY!  JOIN THE CELEBRATION!
Maine AllCare's Waldo County Chapter announces a spring launch party for Saturday, May 12, 2018 beginning at 6 pm at the Belfast Boathouse. Everyone is invited for fiddling, fun and games at this free event.
The party will begin with music by the Belfast Bay Fiddlers and a refreshment table hosted by the local group.
Socializing will be followed by a rousing game of "Health Jeopardy," designed by chapter members to test your knowledge of health care delivery in America and particularly here in Maine. Winners will receive prizes donated by area businesses.
The evening will culminate with the screening of a short movie on universal health care.
Donations will be accepted for MaineAllCare to promote our mission of educating the public on the advantages of universal health care and answering questions on implementation of a universal health plan in Maine.
For more information about Waldo County's Chapter of Maine AllCare, check out the Chapter page of the Maine AllCare.
---
Join Maine AllCare at the State Democratic Convention In Lewiston
Maine AllCare is hosting a table at the Democratic Convention in Lewiston on Friday May 18 and Saturday May 19th.  If you are planning on attending, please stop by for a chat. Click on this link if you'd like to volunteer to sign up supporters and to engage the convention-goers in conversations about health care justice.
https://docs.google.com/spreadsheets/d/19QjSojM3bxK1cwzqGkNpllx_zU9B_iR9kxbVVJgYbVc/edit#gid=0
---
CHAPTER NEWS
College of the Atlantic Hosts Maine AllCare Team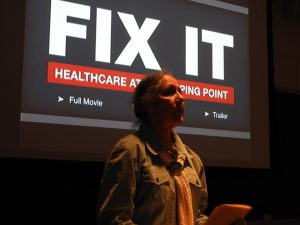 On April 24th Lynn Cheney and Joe Lendvai from the Downeast Chapter, and Valerie Dornan and Bruce Becque from the Ellsworth/MDI Chapter presented to a diverse audience on the campus of College of the Atlantic in Bar Harbor The event was held as part of the series of the Tuesday Afternoon Human Ecology Lectures, open to the wider community, and was facilitated by Professor Visvader and Rob Levin. There were members of the public as well as students in attendance.
A viewing of the documentary, Fix It, Healthcare at the Tipping Point, was followed by a Q&A session; much of the discussion centered around the possible ways a single payer, universal healthcare system could be funded, while costing less than our current system. The audience were interested to hear updates on the work of the Maine Legislative Healthcare Task Force, the King Foundation Grant awarded to Maine AllCare, a possible Mount Desert Island Chapter and similar work being done in other states.
One person shared how she has accrued significant medical debt and would welcome a system that precludes individuals/families going bankrupt. Everyone who attended signed yellow cards in support of Universal Health Care and more Maine AllCare bumper stickers will now be seen on local vehicles.
Maine AllCare wishes to thank Professor Visvader, Rob Levin, and the students who ran the AV equipment, for this opportunity to speak at the College of the Atlantic; it is vitally important our young adults have a voice in the shaping of 21st century healthcare in our country.
---
Rockland Chapter Supporters Produce Educational Video for Maine AllCare
In the video, Mainers share some of their stories about living in countries where healthcare is universal. Certainly we can learn from their experiences.
The creators of the video are Sara and Dave MacLurg and Hanji Chang from Rockland.
Find the video on our website http://maineallcare.org/resources/ and on YouTube: https://m.youtube.com/watch?feature=youtu.be&v=2-AogagUH6o
---
Helpful Educational Short Videos – recommended by the Greater Brunswick Chapter of Maine AllCare

"Healthcare Triage, Canada" a 7-minute video helpful in understanding the truth about Canadian healthcare. https://www.youtube.com/watch?v=1TPr3h-UDA0
Explanation of Single Payer: 4-minute explanation prepared by the Washington Post, that uses helpful diagrams and graphics. https://www.youtube.com/watch?v=wUZRroGOrPs
---
STATE NEWS
Task Force Update
The Task Force on Health Care Coverage for All of Maine continues its deliberations and in-depth study of health care issues facing Mainers.  The April 2nd meeting featured reports from three study groups: Health Insurance Market, Cost Containment, and Public Options. The task force and its committees plan to continue meeting in the fall. For detailed reports, see the March and April newsletters.
---
NATIONAL NEWS
Des Moines Register writer wins Pulitzer Prize for editorials advocating for health care justice
Des Moines Register; April 16, 2018
Des Moines Register editorial writer wins Pulitzer Prize
Andie Dominick, an editorial writer at the Des Moines Register, on Monday won the 2018 Pulitzer Prize for editorial writing for a selection of Iowa-focused editorials criticizing policies that restrict access to health care.
The Pulitzer Prize citation states that Dominick won "for examining in a clear, indignant voice, free of cliché or sentimentality, the damaging consequences for poor Iowa residents of privatizing the state's administration of Medicaid."
The Register invited Iowans to share the experiences they have had with Medicaid under privatized management, which allowed Dominick to put a human face on denials of care, loss of access to services, and providers going out of business because they were not being reimbursed by for-profit insurers.
Dominick called health care "a passion of mine" and said she was honored to be recognized for her work on such an important topic.
"It's such an honor to be recognized for the whole paper's work on Medicaid and ensuring Iowans have access to health care," Dominick said. "And we'll continue to work to make Iowa a better place to live."
https://www.desmoinesregister.com/story/news/2018/04/16/pulitzer-prize-des-moines-register-andie-dominick-editorial-writing/521710002/
The article includes links to nine editorials such as, "Branstad's private Medicaid 'success' that wasn't" and "Privatized Medicaid is worst prank ever."
The editorial staff of the Des Moines Register has long been a leader in advocating for health care justice, having supported repeatedly a single payer health care system for the United States. Although the Pulitzer Prize committee in the past has failed to recognize the significance of the single payer editorials, at least they now acknowledge the importance of health care justice by granting their Prize to editorial writer Andie Dominick.
In the meantime, Medicaid Expansion in any form continues to elude the people of Maine. Maine AllCare has been an active supporter of the Medicaid expansion effort, while we continue to advocate for a single health plan for EVERYONE in Maine.
The next step for all of us is to expand on this news story and educate the public that we advocate the same national solution advocated by the Pulitzer Prize winning editorial team of the Des Moines Register: a single-payer health care system, National Improved Medicare for All.
---
National Support Continues to Build for Universal Health Care
A Washington Post-Kaiser Family Foundation poll finds a 51 percent majority of Americans support "a national health plan — or a single-payer plan — in which all Americans would get their insurance from a single government plan?" (Editors note: There has been strong support for universal coverage expressed in the past, but not so strongly and explicitly for a government funded plan.)
https://www.washingtonpost.com/news/the-fix/wp/2018/04/12/about-half-of-americans-support-single-payer-health-care/?noredirect=on&utm_term=.b196aef534ec
A Commonwealth Fund survey shows that 92 percent of working age U.S. adults believe that all Americans should have a right to affordable health care.
http://www.commonwealthfund.org/publications/issue-briefs/2018/mar/americans-views-health-insurance-turbulent-year
---
Why America's Black Mothers and Babies Are in a Life-or-Death Crisis
A sobering article from the New York Times magazine, about the lived experience of being a black woman in America.
https://mobile.nytimes.com/2018/04/11/magazine/black-mothers-babies-death-maternal-mortality.html
---
Are you a Maine AllCare News Fan? Please Share!
If you enjoy receiving the Maine AllCare News, please forward the link to this newsletter to friends and relatives who may be interested in reading about our activities.
For more Maine AllCare News and Events, please visit our website: www.MaineAllCare.org