Maine AllCare News – January 2018
Legislative Health Care Task Force to meet January 22 
and March 2
Universal health care supporters turned out in force for the first meeting of the Maine legislative Task Force on Health Care Coverage for All of Maine in Augusta, December 20. As stated in the Joint Order establishing the Task Force: "It is the intent of the Legislature to ensure that all residents of the State have access to and coverage for affordable, quality health care. It is the intent of the Legislature to study the design and implementation of options for a health care plan that provides coverage for all residents of the State."
Learn more about the first meeting of the Task Force by clicking here for a Channel 6 report.
Second and third meetings are set for Jan. 22 and March 2 from 9:30 – 4:00 with public comments in the afternoons. Maine AllCare invites your attendance! We urge you to prepare a 2-3 minute personal healthcare story to present during the public comment. Attendees should also be prepared to speak to the press about reasons for supporting this most important step in our journey to affordable, universal healthcare in Maine.
Co-chairs of the Council are Senator Rodney Whittemore and Rep. Heather Sanborn. Other members include Sen. Geoffrey Gratwick, Sen. Eric Brakey, Sen. Brownie Carson, Rep. Robert Foley, Rep. Anne Perry, Rep. Paul Chace and Kristine Ossenfort, Joel Allumbaugh, Jeffrey Austin, Daniel Kleban, Kevin Lewis, Francis McGinty and Patricia Riley. Senator Gratwick is also on Maine AllCare's Board.
Chapter News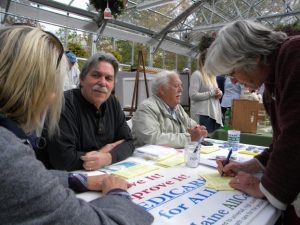 Maine AllCare has 10 chapters throughout Maine. After a brief break during the holidays, Maine AllCare chapters are meeting again to plan for a variety of activities, including film screenings, signature gathering, and study groups. Chapter members are actively seeking statements of support for guaranteed health care for all Maine from local businesses and organizations. If you would like to become active in a Maine AllCare chapter, please visit our website calendar or  email our chapter coordinator Marilyn McWilliams at marilyncmcwilliams@gmail.com
National News
Vermont Senator Bernie Sanders to host a town hall on his "Medicare for all" proposal, a 90-minute event that will be streamed online January 23.
"For the first time in American history we will be holding a nationally televised town meeting on Medicare for all. The United States is the only major country on earth not to guarantee health care to all people, but amazingly there has not been one network town hall to discuss why our system lags so far behind every other industrialized country," Sanders said. "We are going outside the traditional media to change that, to talk about the real issues affecting the American people."
The event will be livestreamed by various online outlets, including NowThis, ATTN: and The Young Turks, as well as on Sanders's own social media accounts, from 7 p.m. to 8:30 p.m.
For more information: http://thehill.com/policy/healthcare/368508-sanders-to-host-medicare-for-all-town-hall
Fighting for Our Lives: The Movement for Medicare for All

Earlier this month the alternative news organization Truthout recently published the first in an original series of articles about the movement for Medicare for All, entitled Fighting for Our Lives: The Movement for Medicare for All. In this ongoing series, Truthout plans to cover the front lines of the campaign for single payer, the history behind it, its practical implications, its intersections with other movements, and the millions upon millions of lives it will affect. First in the series: How to Build a Single-Payer Health System: Lessons From Taiwan's Turnaround
Looking for more information about the national movement for Improved and Expanded Medicare for All?
Our parent organization, Physicians for a National Health Program, offers a wealth of information on its website: www.pnhp.org

Shouldn't we pay "LESS" for healthcare too?
Over twenty states are moving forward on plans to bring universal, guaranteed healthcare to the citizens of their states: where legislation has passed, is proposed, or there are studies underway. California is a hotbed of activity. Check out Healthy California campaign's latest video  showing how the U.S. fails when other countries pay so much "LESS" for healthcare and cover all. Learn more about their campaign to guarantee healthcare for all in California at www.HealthyCA.org.
Maine AllCare Thanks You for Your Support!
106,000 Mainers are uninsured and an estimated 200,000 or more are underinsured. We need your help to change that. We are increasing our efforts to build an informed and unified movement across our state to support a universal healthcare system and help us carry the mission forward. Give today to fuel our education and awareness work to return healthcare to its real mission: maintaining health and healing the sick.
DONATE NOW. Maine AllCare is a chapter of PNHP, Physicians for National Health Program. Your donation is tax deductible under Section 501(c)3 of the IRS code, to the full extent allowable, as you receive no goods or services in return.
You can make an on-line donation at https://www.classy.org/checkout/donation?eid=139119
OR send your check to Maine AllCare, PO Box 5015, Portland, ME 04101