Maine AllCare News – February 2018
---
Looking Forward in 2018
   A message from Maine AllCare Board Chair Henk Goorhuis M.D.
"Maine AllCare promotes the establishment of publicly funded healthcare coverage for all Maine residents. This system must be efficient, financially sound, politically sustainable and must provide benefits fairly distributed to all.
Maine AllCare advocates that healthcare, a basic necessity, be treated as a public good, since it is fundamental to our well-being as individuals and as a democratic nation."
This is Maine AllCare's mission: publicly funded healthcare coverage for all Maine residents.
Maine AllCare continues to grow. We now number over 20,000 supporters, and more people are signing up daily to join the movement. Along with our partners, the Maine State Nurses Association and the Southern Maine Workers Center, we to continue to build and mobilize grassroots support for guaranteed, universal healthcare for everyone in Maine.
We are also working to increase our list of Business and Organizational supporters. If you have discussed universal healthcare with any of your local business owners, please ask them to endorse our movement:  we'd like to add them to our growing list of organizations that support universal healthcare.  For a current list of supporting businesses and organizations, please click here. If you have a business of your own, there is now a link to the form for you to use there, too.
Our 10 chapters are hard at work, holding forums and educational sessions and screening films throughout the state. Chapter members are also pounding the pavement, signing up both individual and business supporters.  We hope to start more new chapters around the state in 2018.  If you would like to join or to start a chapter, we would like to hear from you.
Our Finance Committee raised over  $80,000 last year.  This year, we have submitted grant proposals to help us with the financial support we need to hire an executive director, to fund studies and to hire another Field Organizer.  We continue to raise the funds needed to do the work that is needed to reach everyone in Maine.  Thank you for your contributions, and please continue to give generously.
Last year, Maine AllCare created a Policy Committee, to look at the details and to answer many of the hard questions about a healthcare system that would guarantee healthcare coverage for everyone in Maine.  The Policy Committee plans to commission a study to examine how a publicly financed, universal healthcare system can work both clinically and financially in Maine.
Maine AllCare has also commissioned a short video featuring Mainers who have experienced universal healthcare in other countries.  We continue to gather stories from people across the state, and people are contacting us nearly every week with their stories. We love to hear from you.  In 2017, we redesigned our website. We continue to educate people about healthcare through the website, Facebook page, letters to the editor, columns in publications, panel discussions, videos and movies.
Last month, several citizens attended the Legislative Task For for Healthcare Coverage for everyone in Maine.  Maine AllCare will continue to monitor and support the actions and deliberations of the Task Force.  The next meeting of the Task Force is March 2.  We hope to see you there.
I am supported by an active and engaged Board.  We are always looking for new volunteers and Board members.  If you would like to become more actively involved, we'd like to hear from you.  You can reach me or the Maine AllCare Board at info@maineallcare.org
Wishing you a healthy, proactive and productive 2018.
Sincerely,
Henk Goorhuis, M.D.
---
Legislative Health Care Task Force continues its work
The 16-member Legislative Task Force on Health Care Coverage for All of Maine met for second time on January 20th, with time for public comment. The Task Force was convened as a result of the unanimous recommendation by the Insurance and Finance Committee, and is charged with exploring options for covering all Mainers.
About 20 people submitted comments during this second session. Among them was Art Shea, the Co-chair of the Waldo County chapter of Maine AllCare.  Retired from the healthcare profession of prosthetics and orthotics, and a long time advocate for "single payer healthcare", Art began his testimony speaking about the "elephant in the room", i.e. "Profit in Healthcare".  Getting straight to the heart of the matter, he said, "Without eliminating the huge profit motive, it will be impossible to find a solution to providing everyone in Maine with quality comprehensive universal healthcare."
Before public comments began, the 16-member Task Force focused on insurance and business issues, basically buying in to the "commodity/ market" situation we are now in. Maine AllCare believes, in keeping with our mission, that free market solutions will inevitably fail to serve the Common Good.
Watch this Canadian capitalist explain why the Free Market Doesn't Work for Health Care.  https://www.youtube.com/watch?v=UCBH9839bsQ&t=20s
Another related video: https://www.facebook.com/filmsforaction/videos/748468752010360/
The next meeting of the task force is FRIDAY March 2, 9:30 – 4:00 with public comments in the afternoon. Please attend, and comment.
Co-chairs of the Legislative Task Force are Senator Rodney Whittemore and Rep. Heather Sanborn. Other members include Sen. Geoffrey Gratwick, Sen. Eric Brakey, Sen. Brownie Carson, Rep. Robert Foley, Rep. Anne Perry, Rep. Paul Chace and Kristine Ossenfort, Joel Allumbaugh, Jeffrey Austin, Daniel Kleban, Kevin Lewis, Francis McGinty and Patricia Riley. Senator Gratwick also serves on Maine AllCare's Board.
---
Gubernatorial Candidates Healthcare Forum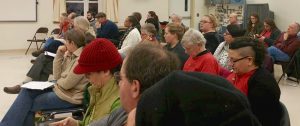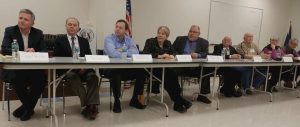 On Thursday, February 1st,  Maine AllCare co-hosted a Candidates Forum with Maine State Nurses Association/National Nurses United and Southern Maine Workers Center.
The key question was "Do the candidates support universal, publicly funded health care?" The forum was attended by ten of the announced candidates. Dr. Bill Clark, chair of the MidCoast Chapter, and Bruce Becque, a nurse and chair of the Ellsworth/MDI chapter posed key questions. All but one of the candidates supported some form "universal healthcare" for the people of Maine. About five of the candidates supported getting there through a single-payer program, if possible.
---
Chapter News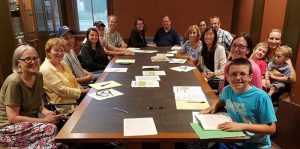 Maine AllCare has 10 chapters throughout Maine. Chapters have been holding events, forums, movie screenings and community discussions. Please visit our website to find a Maine AllCare event or chapter meeting near you.  If you would like to become active in a Maine AllCare chapter, please contact our chapter coordinator Marilyn McWilliams at info@maineallcare.org
---
National News
Maine AllCare founding board member Dr. Phil Caper compiles a news blog in which he highlights state and national news and opinion regarding health care reform.
This month Dr. Caper recommends an article from the Christian Science Monitor: Poll says US Citizens Worry Most about Health Care
"As President Trump completes his first year in office, Americans are increasingly concerned about health care, and their faith that government can fix it has fallen.
A new poll by The Associated Press-NORC Center for Public Affairs Research finds that 48 percent named health care as a top problem for the government to focus on in the next year, up 17 points in the past two years.
The poll allows Americans to name up to five priorities and found a wide range of top concerns, including taxes, immigration, and the environment. But aside from health care, no single issue was named by more than 31 percent.
And 7 in 10 of those who named health care as a top problem said they had little to no confidence that government can improve matters."
For the full article, visit https://www.csmonitor.com/USA/2017/1221/Poll-says-US-citizens-worry-most-about-health-care
The link to Dr Caper's blog:  http://healthcarereformarticles-philiphilipo.blogspot.com
---
Maine AllCare Thanks You for Your Support!
106,000 Mainers are uninsured and an estimated 200,000 or more are underinsured. We need your help to change that. We are increasing our efforts to build an informed and unified movement across our state to support a universal healthcare system and help us carry the mission forward.  Give today to fuel our education and awareness work this fall to return healthcare to its real mission: maintaining health and healing the sick.
DONATE NOW. Maine AllCare is a chapter of PNHP, Physicians for National Health Program. Your donation is tax deductible under Section 501(c)3 of the IRS code, to the full extent allowable, as you receive no goods or services in return.
You can make an on-line donation at https://www.classy.org/checkout/donation?eid=139119
OR send your check to Maine AllCare, PO Box 5015, Portland, ME 04101.