Maine AllCare News – April 2018
---
 

Maine Legislative Task Force on Health Care Continues Deliberations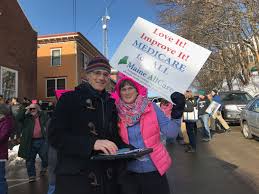 The Maine Legislative Task Force continues its deliberations and in-depth study of health care issues facing Mainers.  The task force reports that 13 of its 16 members have replied to an internal survey.  Nine of 13 think that all Maine residents should be required to have health care coverage and most believe that the cost should be income based.  All 13 respondents agree that affordability is an issue.  Twelve of 13 agree that accessibility is an issue.
The April
Task
Force
meeting featured reports from three study groups: Health Insurance Market, Cost Containment, and Public Options. The Insurance group was focusing on those who are left out of the current situation with thoughts of "reinsurance" and small groups. The Cost Containment group had three suggestions – reduce administrative overhead with a standard form while adding the choice of Medicare, lower prescription costs using a wholesale importer or CanaRx and change people's behavior so they are healthier and need less care. The Public Option group noted that a single-payer system is not likely in this political climate so a base plan with the option of additional purchase like Medicare Advantage plans was mentioned as was prevention.
In summary, the task force members are actively working with a variety of options, but with no conclusions yet.
---
Maine AllCare receives $50,000 donation from King Foundation
ELLSWORTH — Maine AllCare, a nonprofit advocating for universal health care in Maine, has received a $50,000 donation from the Stephen and Tabitha King Foundation to fund financial feasibility studies and an operations manager.
The mission of Maine AllCare is to promote the establishment of publicly funded health care coverage for all Maine residents. The system will be efficient, financially sound, politically sustainable and provide benefits fairly distributed to all.
The organization advocates that health care, a basic necessity, be treated as a public good fundamental to Mainers' well-being as individuals and as a democratic nation.
Maine AllCare's chairman, Dr. Henk Goorhuis, said two studies to examine the financial feasibility of this approach in Maine are planned with this donation. The all-volunteer board also will hire a director to coordinate its outreach.
The organization has 10 chapters throughout Maine. Additional chapters will be established to increase awareness, education and communication throughout the state.
Maine AllCare also is in a Health Care as a Human Right coalition with the Maine State Nurses Association and the Southern Maine Workers Center
The King Foundation was started by writers Stephen and Tabitha King and donates to organizations and community-based initiatives in Maine that often do not have easy access to resources or funding.
https://www.ellsworthamerican.com/maine-news/health-news/maine-allcare-receives-50000-donation-from-king-foundation/
---
Chapter News – featuring the Downeast Chapter



Maine AllCare has 10 chapters throughout Maine. The DownEast Chapter meets every 3rd Sunday of the month 4-5:30PM at the Blue Hill Public Library. The chapter is hosting 3 showings of the movie Fix-It: Healthcare at the Tipping Point.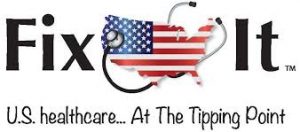 Tue, April 24, 4:10pm – 6:00pm
McCormick Lecture Hall, College of the Atlantic, Bar Harbor.
Sun, April 29, 3:30pm – 5:00pm,
Deer Isle Town Hall.
Fri, May 4, 6:00pm – 7:30 pm,
Garland Public Library.
If you have not yet seen this important movie, please consider attending.
If you would like to host a screening in your area, please contact us at info@maineallcare.org.
For more listings of chapter meetings and events, please visit our website calendar of events
---
Over Sixty Maine Businesses Endorse Maine AllCare
One of the many projects spearheaded by Maine AllCare's chapters is the solicitation of endorsements for universal healthcare from businesses throughout Maine.  Business endorsers commit to support Maine AllCare's goal of "a publicly funded, efficient, financially sound and politcally sustainable healthcare system".
From our newest business endorser, Kathryn Arbach, owner of A&B Naturals in Bar Harbor:
"I am a business owner. I have several employees that receive coverage through ACA. When I looked into getting coverage for my employees I learned that doing so would actually penalize the employees that receive ACA coverage, because they would be forced to pay into the coverage through my business, which would be more expensive than their current plan. Several employees asked me not to provide coverage because if I offer coverage for any employee, it would make them ineligible for ACA coverage. As a single person, I have found that paying for independent health care coverage is unaffordable. So I currently have no coverage, so that the employees that need coverage the most can keep their ACA plans.
Obviously, the healthcare system we have in place is not working and a universal healthcare system makes sense and, as other countries have proven, is a workable, affordable undertaking. I fully support your efforts and will spread the word."
-Kathryn Arbach
For Maine AllCare's growing list of business endorsers, visit: http://maineallcare.org/endorsers/
If you are a Maine business owner, and would like to endorse Maine AllCare, please download the endorsement form here.
---
National News Articles



By Adam Gaffney – Dissent Magazine – Spring 2018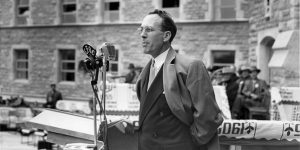 In the 1960s, a struggle took place over the fate of healthcare in Canada. On one side, there were the proponents of the single-payer program called Medicare, like the stubborn Scottish-born socialist Tommy Douglas. Medicare was modeled on a program passed in the province of Saskatchewan in 1961 under Douglas's leadership, which provided universal coverage of physicians' services (the province's 1947 plan for universal hospital coverage had already been federalized in the late 1950s). And on the other side there were those who advocated a more gradual approach, such as Ernest Manning, the premier of Alberta, who went on television in 1965 to ask the nation to "look before we leap." After all, the Saskatchewan program—funded by premiums and a slew of new taxes—had been implemented only after a bruising physicians' strike, which ended only after twenty-three bitter, dangerous days that made international headlines. And that was just in one snowy, sparsely populated province—this was what Douglas was now demanding for the entire nation.
Read the full article: https://www.dissentmagazine.org/article/single-payer-or-bust-two-souls-universal-healthcare
---
Why Some Americans Are Risking It and Skipping Health Insurance
Prices and deductibles are rising. Networks are shrinking. And even some well-off Americans are questioning what they're paying for.
By John Tozzi
March 26, 2018
---
Getting Sick Can Be Really Expensive, Even for the Insured
Beyond medical costs, a trip to the hospital can mean a permanent reduction in income for many Americans, new research shows.
By Margot Sanger-Katz – The New York Times – March 21, 2018
---
Maine AllCare Thanks You for Your Support!
106,000 Mainers are uninsured and an estimated 200,000 or more are underinsured. We need your help to change that. We are increasing our effort to build an informed and unified movement across our state to support a universal healthcare system and help us carry the mission forward. This newsletter is just one small part of this effort. If you agree that everyone should have the right to affordable health care, give today to fuel our education and awareness work to return healthcare to its real mission: maintaining health and healing the sick.
DONATE NOW. Maine AllCare is a chapter of PNHP, Physicians for National Health Program. Your donation is tax deductible under Section 501(c)3 of the IRS code, to the full extent allowable, as you receive no goods or services in return.  
You can make an on-line donation at https://www.classy.org/checkout/donation?eid=139119
OR send your check to Maine AllCare, PO Box 5015, Portland, ME 04101.