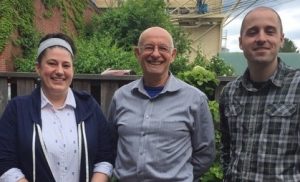 Welcome our new Executive Director, Phil Bailey (center), and Field Coordinators, Abbie Ryder and Chris Cayer:
"People know we don't have real health care coverage or an effective system. People also know universal health care means everyone is covered and everyone saves. Some of our politicians may lack the will to lead but Mainers don't. We can and will do better," said Henk Goorhuis, Board Chair. "I'm pleased to introduce our first permanent staff for our statewide organization. Phil Bailey, Abbie Ryder and Chris Cayer will help move an issue that is of great importance to all."
Bailey said, "I'm excited to be the first executive director of an organization that has built a wide following in Maine. Mainers are practical, thrifty, and they know universal healthcare is an idea whose time has come. We are thrilled to welcome Abbie Ryder and Chris Cayer as our Field Directors and we trust the people in Maine support universal health care. They know we can save money, save our rural hospitals, and have better coverage."
Phil Bailey has a strong background in management, organizing and fund raising. He was recently the campaign manager for Jonathan Fulford (CD2-ME), is the former state director for Change That Works, a group that advocated for the Affordable Care Act, and served as the major donor director for the Maine People's Alliance.
Abbie Ryder and Chris Cayer have previously advocated for universal health care with Maine AllCare and just finished working for the continuation of Ranked Choice Voting. They are experienced community organizers for a variety of bi-partisan issues.
Hiring these three dedicated and talented staff to Maine AllCare was made possible with your donations, helped by a generous grant from the King Foundation. Maine AllCare will need your ongoing financial support to sustain their work and to keep our momentum growing. We especially welcome monthly donations in any amount, whatever works for you.