Our current system has allowed the greatest health insurance enrollment losses in history
According to a new report from FamiliesUSA, more than 5.4 million Americans lost health insurance between February and May due to job losses and layoffs caused by the pandemic. From commentary by Don McCanne, Senior Health Policy Fellow with Physicians for a National Health Program:
"Of major significance, these are nonelderly adults. Medicare – for those over 65 – continued to provide stable coverage after the onset of the pandemic. There would be no uninsured now had we had in place a single payer Medicare for All program."
---
Health care virtual town hall on July 29
Maine AllCare is partnering with the Maine Poor People's Campaign to produce a live virtual town hall on July 29th7:30 – 8:30 pm EDT. The event will focus on the need for single-payer universal health care as evidenced by the failure of employer-sponsored and private health insurance during the global pandemic and national economic downturn.
The Poor People's Campaign includes universal healthcare in their demands. Both our organizations recognize the need for coalition-building in order to create a louder voice demanding health justice.
We plan to have three speakers talk for about 10 minutes. We will introduce both PPC and MAC, have the three speakers talk, and then wrap up with direct-action items and ways to get involved with both PPC and MAC.
The event will be streamed live on the Maine PPC facebook page, and also on the MAC facebook page.
Do you have a story to tell? For the event, we are looking for individuals who would be willing to talk about their experience losing health insurance coverage, receiving costly hospital bills during the pandemic, or having insurance be a barrier to accessing care. Contact Maine AllCare event organizer Jim McCullum.
---
Call to action
Support emergency COVID-19 legislation
Physicians for a National Health Program has developed many resources related to COVID-19 and the need for universal healthcare, including a call to support emergency legislation that's been introduced in the  U.S. House of Representatives.
"As millions of American workers lose their jobs (and their employer-sponsored health benefits) during the COVID-19 pandemic, the demand is growing for Congress to guarantee health coverage for everybody in the U.S."
---
Maine News
Many hospitals in Maine, especially in rural areas, were struggling financially before the pandemic hit. Maine Public reports on the staggering financial losses seen by Maine hospitals in the first half of 2020 and how they are seeking millions of dollars in assistance to try to stay afloat.
---
Voices of Maine
The coronavirus crisis is making it all too clear just how essential it is for Americans to have universal healthcare that is affordable, not tied to employment, and publicly funded--for our health and for our economic well-being.
Coronavirus a wake-up call
Please consider writing a letter to the editor about our need for universal health care--there is no better time than now. 
In a letter to the Ellsworth American, David Jolly of Penobscot outlined how the coronavirus pandemic is "laying bare the inequities and dangers inherent in our systems of health care and employment."
"Many, if not most, people who are uninsured (as well as many underinsured) will not seek testing or treatment for coronavirus infection simply because they can't afford it. And for the same reason they won't be able to stay home from work if they are ill. All of this greatly increases the likelihood that the virus will spread further."
---
Love Data?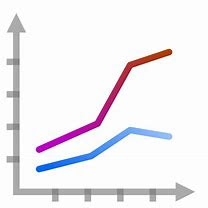 In the Annals of Internal Medicine, researchers compare administrative costs for the health care systems in Canada and the United States for 2017.
Among their findings: U.S. insurers and providers spent $812 billion on administration, amounting to $2497 per capita (34.2% of national health expenditures) versus $551 per capita (17.0%) in Canada.
---
Further reading



The moral determinants of health
The real reason the U.S. has employer-sponsored health insurance
The new medical-industrial complex (1980)
---
Learn more and get involved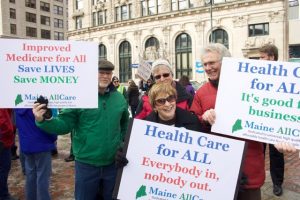 Check out our website to learn more about health care reform for Maine, who we are, the work we do, and how you can get involved.
Maine All Care chapters usually meet monthly, around the state, and our meetings are open to all. Due to the pandemic, in-person meetings are suspended for now; some chapters may hold virtual meetings, others are focused on other ways to keep the movement for universal healthcare for Maine going. Find your local chapter on our website.
We want to hear your stories: Has the pandemic changed the way you see healthcare in our country? How are you coping? Have you or someone you know recovered from COVID-19? Send your stories to aryder@maineallcare.org.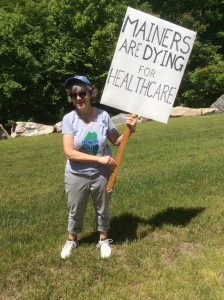 Send us your signs! We are building up our online movement and starting a series of Mainers showing their support for healthcare for all Maine. Send your photo to aryder@maineallcare.org. Be creative. We need to send a message that we are all in this together, we deserve better, and we can do better.
Make a donation to support Maine AllCare's work--any amount makes a difference! You can choose a one-time gift, or set up a monthly donation, on our website.
And please spread the word!
Thank You for Your

Support!
Maine AllCare promotes the establishment of publicly funded healthcare coverage for all Maine residents. This system must be efficient, financially sound, politically sustainable and must provide benefits fairly distributed to all. Maine AllCare advocates that healthcare, a basic necessity, be treated as a public good, since it is fundamental to our well-being as individuals and as a democratic nation.
Please forward this email to friends and family, and encourage them to sign up to receive the newsletter.
Make a donation to support Maine AllCare's work. You can donate online here. You can also mail your contribution to: Maine AllCare, P.O. Box 5015, Portland, ME 04101.
Maine AllCare is a chapter of PNHP, Physicians for a National Health Program.
Your donation is tax deductible under Section 501(c)3 of the IRS code, to the full extent allowed by law.
---
Newsletter written and edited by Elizabeth Solet