News – July 2019
---
Making the Case:

Industry pushes back, with "FUD"
As comprehensive healthcare reform becomes more of a focus on the national political stage, it's not surprising that those with a financial stake in keeping the status quo will also come out in force. And they are. The Partnership for America's Health Care Future sounds pretty good, right? A coalition of healthcare and insurance industry interests, they're intent on beating back comprehensive healthcare reform.
"In a daily fusillade of digital advertising, videos and Twitter posts, the coalition, the Partnership for America's Health Care Future, says that Medicare for all will require tax increases and give politicians and bureaucrats control of medical decisions now made by doctors and patients — arguments that echo those made to stop Medicare in the 1960s…" Read the full New York Times article here.
It's worth noting that these same arguments were also made in Canada in the 1960s against their nascent Medicare system–which is now very popular among Canadian citizens. And that, yes, comprehensive healthcare reform will require tax increases–offset by the elimination or sharp reduction in premiums, copays, co-insurance, deductibles, surprise billing, etc. And universal, publicly funded health care actually would return control of medical care decisions from health insurance companies to doctors and patients.
Which leads us to FUD: the strategy of sowing Fear, Uncertainty, and/or Doubt. To fight against comprehensive reform, the PAHCF and other groups don't have to prove anything, or support their position with thoughtful arguments backed by solid information. Wendell Potter, a former health insurance executive who advocates for health care reform, writes about FUD and the PAHCF's efforts in a recent article in Tarbell: "How to Be Ready for the Health Care Industry Lie Factory."
---
Chapter News
Recent events:
July 11-14, Hiram: Ossippee Valley Fair

July 13, Portland: Social Justice Street Fair
July 14, Stonington: The annual Fishermen's Day celebration. A fun, family day honoring our local fishermen, held on the Stonington Fish Pier. The Maine AllCare Downeast chapter joined in for the third year in a row to talk with people about universal healthcare for Maine.

July 21, Parsonsfield: Lobster Bake!
Coming events where you can find Maine AllCare:
July 26-27, Shapleigh: Shapleigh Community Days
July 27, Portland: Festival of Nations in Deering Oaks Park (10 am-5 pm)
August 2, Portland: First Friday Art Walk
Want to get involved?
Come to a chapter meeting–we have 12 chapters around the state, meetings are open to all, and all are welcome. If there's not a chapter near you, would you consider starting one?
Write a letter to the editor to voice your support for universal health care.
Volunteer to table at an event, enter data, make phone calls, or help to organize and publicize chapter activities–many hands make light work! Sign up here or contact us at info@maineallcare.org.
Make a donation to support Maine AllCare's work–any amount helps. Click here to set up a recurring donation, or make a one-time gift. Or mail to: Maine AllCare, PO Box 5015, Portland, ME 04101.
Join our Legislative Team to learn about bills that are proposed or under consideration in the Legislature, and attend hearings and testify in Augusta. The more people who come out, the better, and legislators want to hear from you.
If you'd like Maine AllCare to host a forum in your community, please contact us at info@maineallcare.org.
To learn more about our new business program, contact Maine AllCare Field Director Abbie Ryder at aryder@maineallcare.org.
---
Two Easy Ways to Support Maine AllCare
Recurring Donation



Did you know that you can easily set up a monthly donation to Maine AllCare on our website? Recurring donations support our work for universal healthcare by providing steady funding, and allow you to "set it and forget it." Any amount makes a difference! Sign up on our website here, or visit our website and click on the donate button. Thank you!

Clynk is another simple and easy way to support Maine AllCare. Here's what to do: Save your bottles and cans. Get a tagged Clynk bag from your chapter leader and fill it with returnables. Take the full bag to a Hannaford store, find the Clynk bin (it may be in the store lobby, or maybe in a small building in the parking lot). Bring your bag(s) to one of the doors and pass the barcode on the bag's tag in front of the "reader" light. This opens the door. Then place each bag in the Clynk bin, and you're done! Each donation may seem small, but they add up, especially when many people are "Clynk-ing" all around Maine.
Over the last two months, Maine AllCare supporters have recycled 7,326 containers!
---
Maine News and Voices:
Could universal healthcare help Maine attract and keep young people and families?
Ilana Newman, a young Mainer living in Canada, notes that universal healthcare could help Maine lessen the effects of 'brain drain' and an aging population. See the letter in the Portland Press Herald, from July 3.
Would you like to write a letter to the editor about healthcare for ALL? If you write, please send us a link. If you want help putting a letter together contact Dan Bryant at bryantdc57@gmail.com.
---
National News:
Support for Medicare for All may hinge on keeping providers, not private insurance
A July 2 story on Morning Consult looks at recent polling that suggests that Americans more broadly support Medicare for All when assured that a new system would allow them to keep their providers, even though private insurance would be eliminated or greatly reduced.
"'These numbers only affirm what the senator has said many times: people don't like insurance companies, they like their doctors and their hospitals,' [Bernie] Sanders' campaign said of the data in an email to Morning Consult. 'Despite what the pharmaceutical and insurance industries will tell you, Medicare for All is the only proposal that gives Americans the freedom to control their own futures — change jobs, start a family, start a business — and keep their doctor.'"
---
Healthcare Story:
Working, insured, and in debt
In a story that's become all too familiar, Noam Levey, a journalist who covers health care for the LA Times, reports on a family in Topeka, Kansas that is staggering under medical debt and rationing care, despite working hard and having health insurance.
"Three kids, a health plan and $15,000 in medical debt: A working family tries to make ends meet."
Do you have a personal health care story? We invite you to share your story with us at info@maineallcare.org
---
Film Feature:
Fix It: Healthcare at the Tipping Point
Periodically we'll highlight films and videos on health care and health care reform.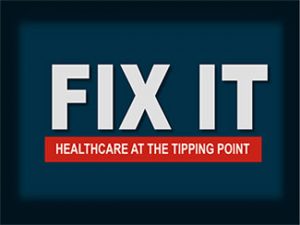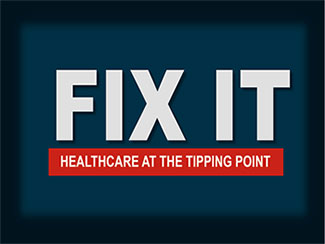 Fix It: Healthcare at the Tipping Point makes the business case for major health care reform, and addresses the massive inefficiencies and inequities in our current system. The film was released in 2015 and features Richard Masters, founder and owner of MCS Industries. Learn more about the team behind Fix It, their other films, and access resources here.
Maine AllCare chapters around the state regularly host film screenings and discussions. Check out the chapter information section of our website, with links to chapters around the state, to learn more.
---
Thank You for Your Support!
We are building an informed and unified movement across our state to support a universal healthcare system. This newsletter, distributed monthly to more than 17,000 people, is just one small part of our effort. Please forward this email to friends and family, and encourage them to sign up to receive the newsletter, and to show their support at our website.
If you agree that everyone should have affordable health care, please give today to fuel our education and awareness work to return healthcare to its real mission: maintaining health and healing the sick. You can also mail your contribution to: Maine AllCare, P.O. Box 5015, Portland, ME 04101.
Maine AllCare is a chapter of PNHP, Physicians for a National Health Program.
Your donation is tax deductible under Section 501(c)3 of the IRS code, to the full extent allowed by law.