Maine AllCare recently announced the formation of Maine Healthcare Action, a 501(c)4 organization focused on getting universal healthcare on the ballot in Maine.
Maine Healthcare Action has launched a campaign to get an initiative on the ballot in 2022, and will begin collecting signatures in January.
This initiative will give Maine residents the chance to vote for a Resolve that directs the Maine Legislature to create a universal healthcare system for the state.
Read more about this exciting news on our website.
---
Maine AllCare News
Orono is the latest Maine town to approve a resolution requesting "an equitable health plan to provide all Maine residents with comprehensive healthcare from birth to death."
Family physician Kathryn Bourgoin led the effort in Orono, working with the town council to craft the resolution. She talks about the experience, and why she got involved, in a new article on our website.
One thing that surprised her during the process was that facts and figures were less compelling than values, and people's experiences.
Read more about the Orono resolve.
Read more about the other towns who have passed resolves.
Would you like to ask your town to approve a resolution? Contact Maine AllCare at info@maineallcare.org to learn more and get started. We're here to help!
---
Call to Action
Get a Maine AllCare bumper sticker!
Contact us to request one and we'll put it in the mail to you!
Write a letter to the editor in support of universal healthcare. Check out this guidance on how to write an effective letter–and why they are so important. Please send us a link if your letter is published.
---
Voices of Maine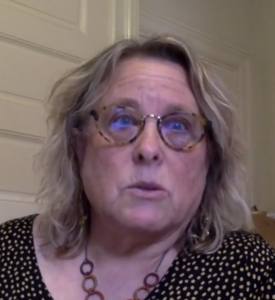 From the Greater Brunswick chapter of Maine AllCare, a collection of short videos giving a window into Mainers' personal healthcare stories–and why universal healthcare is needed.
Read more healthcare stories on our website
---
National News–and Why It Matters for Maine

Javier Becerra nominated as DHHS secretary
President-elect Joe Biden has nominated Javier Becerra as Secretary of the Department of Health and Human Services (DHHS).
What does this mean for universal healthcare? Becerra has shown strong support for Medicare for All, but Biden has publicly stated he does not support it. A recent PNHP article explores how Becerra's nomination may affect progress toward universal healthcare.
Maine AllCare, along with organizations in about 20 states, continues to pursue universal healthcare at the state level. Becerra's nomination could potentially help states get the waivers needed to create state-level plans, according to recent reporting from the New York Times.
---
Further Reading and Listening

John Geyman, CounterPunch, November 19, 2020
Shefali Milczarek-Desai and Tara Sklar, The Conversation, Nov. 23, 2020
BBC Future, May 2019
---
Learn More and Get Involved
Check out our website to learn more about health care reform for Maine, who we are, the work we do, and how you can get involved.
Maine All Care chapters usually meet monthly, around the state, and our meetings are open to all. Chapters are meeting via Zoom due to the pandemic.
Make a donation to support Maine AllCare's work–any amount makes a difference! Make a one-time gift, or set up a monthly donation.
Follow Maine AllCare on Facebook and Twitter and share posts and events.
And please spread the word!
Thank You for Your Support
Maine AllCare promotes the establishment of publicly funded healthcare coverage for all Maine residents. This system must be efficient, financially sound, politically sustainable and must provide benefits fairly distributed to all. Maine AllCare advocates that healthcare, a basic necessity, be treated as a public good, since it is fundamental to our well-being as individuals and as a democratic nation.
Please forward this email to friends and family, and encourage them to sign up to receive the newsletter.
Please donate on-line here. You can also mail your contribution to: Maine AllCare, P.O. Box 5015, Portland, ME 04101.
Maine AllCare is a chapter of PNHP, Physicians for a National Health Program.
Your donation is tax deductible under Section 501(c)3 of the IRS code, to the full extent allowed by law.