BELFAST, ME – On August 4, 2021 Maine AllCare received a significant contribution of $4,753.27 from the Belfast Co-op and their Common Cents round-up program. Every day, the co-op invites shoppers to donate by rounding-up their purchases to the nearest dollar. These donations go to benefit local non-profits that serve our greater community. One hundred percent of all donations goes to each month's group.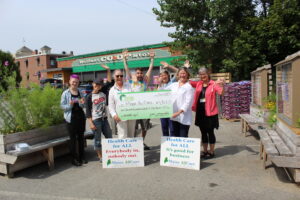 Maine AllCare received the second highest monthly donation ever given out by the Belfast Co-op.  Co-op Marketing Manager Jamie Cermak observed that in spite of the pandemic, "in 2021, we've seen more generosity and giving than in years before.  The Co-op and our community is proud to support Maine AllCare's important work."
And we at Maine AllCare are proud and grateful to have such uncommon and generous partners as the Belfast Co-op to support our mission in bringing universal, publicly funded healthcare to every Maine resident. A great big "Thank You!" to the Belfast Co-op for their caring, and to all the Co-op shoppers who contribute to this worthy program.