Trish Riley, Executive Director of the National Academy for State Health Policy, spoke on "HEALTH CARE FOR ALL IN AMERICA – CAN WE EVER GET THERE?," in Hannaford Hall at USM in Portland recently.
Ed Cundy of the Portland Chapter discusses his ideas with the speaker, noting the current chaos in the healthcare national picture.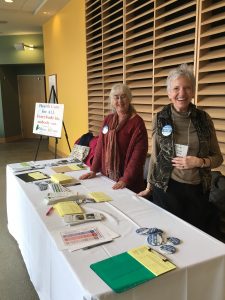 Dee Cundy and Nancy Bogg shared MAC information with attendees.