Stonington Healthcare Forum
By Joe Lendvai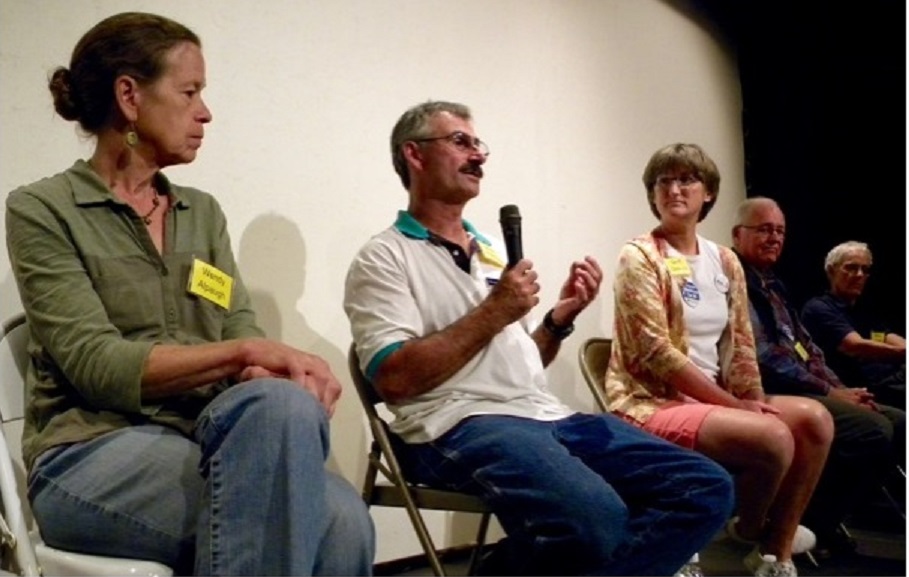 Maine State Representative Walter Kumiega of Little Deer Isle, pictured center
with microphone in hand, makes a point about the correlation between poverty and
poor health as part of public discussion over the future of healthcare in Maine.
Other members of the expert panel that answered questions from the audience at
the Stonington Opera House Healthcare Forum on Sunday, September 24th
included, from left, Dr. Wendy Alpaugh, (Kumiega), Moira O 'Neill PhD, Dr Phil
Caper and Senator Geoff Gratwiek. Dr. JeffMilliken, not shown in the photo, also
Participated.
 
The recent Maine AllCare sponsored healthcare forum at the Stonington
Opera House brought together a good crowd. Well over sixty people came
to see a film, FIX IT- Health Care at the Tipping Point,
a documentary that reaches across the political and ideological divide and
makes the business case for universal, publicly funded healthcare. The film
served as a catalyst for the lively, moderated discussion that followed the
free public screening.