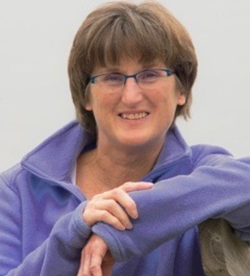 Moira O'Neill, a MAC Board member, addressed the Machias Rotary January, 2018. The text of her remarks follow:
Could Maine offer universal health care?
by Sarah Craighead Dedmon
Recently, members of the Machias Rotary club debated the pros and cons of a single payer health care system during a presentation by Moira O'Neill, given at their meeting held Tuesday, Nov. 17. O'Neill works with the University of Maine on rural nursing programs, and also serves on the board of directors for Maine Allcare, a nonprofit dedicated to working toward affordable health care for all Mainers.
"We spend more money on health care per person than any [other country] in the world," said O'Neill. On average, she said, each American spends more than $9,000 per year on health care related expenses. The median income in Washington County is $22,000 per year.
Despite spending the most on health care, O'Neill said that key markers for our health don't paint a pretty picture. According to the Center for Disease Control (CDC), the U.S. has the worst infant mortality rate of the top 27 wealthiest nations, at 6.1 deaths per 1,000 live births. The U.S. also has the worst maternal mortality rate in the developed world, at 27 deaths per 100,000 live births.
"We're spending a lot of money, and we're not very healthy," said O'Neill. "So, the idea we promote at Maine AllCare is a single payer system. What would be the benefit of that?"
Beyond coverage for everyone, O'Neill said universal health care could help by severing the connection between employers and health care. This could benefit employees, who would then be free to change jobs without fear of losing coverage. But it could also benefit small businesses. "Our economy Downeast is dependent on small businesses, and small businesses can't insure their employees," said O'Neill. "So they can't recruit [employees]."
During a later interview, O'Neill said that in a global economy, American businesses are increasingly challenged to compete with offshore businesses who are not paying for health care benefits. "That has shown to inhibit job growth in this country," said O'Neill. "American car manufacturers are a case in point with some moving over the border. And here in a border state, Maine is particularly vulnerable."
Questions from the audience were lively and ran the gamut from how the U.S. could afford to pay for universal health care to how we can avoid the long waits and substandard technology reputed to exist in Canada's universal health care system.
"The benefit that we have being the very last country in the [developed] world to have a universal health care system is that we can learn from the mistakes that other countries have made," said O'Neill.
Other states have made attempts at creating universal health care programs at the state level, California, Massachusetts and Colorado have all considered it. What if, asked one attendee, Maine adopts universal health care and then sick people relocate to Maine just to take advantage of it?
"There is that risk, but when you design the program, you're going to have to design it to include some kind of residency requirement," said O'Neill.
Recently, LD 1274, "An Act to Promote Universal Health Care, including Dental, Vision and Hearing Care," successfully passed the Legislature's executive council, but without funding.
Maine AllCare raised the necessary money to fund the task force, which was just appointed last week. Rep. Ann Perry (D-Calais) is one of the members.
"Health care coverage is a very emotional issue —for people who need it to stay alive, for people who are trying to run hospitals and clinics, for employers who need to recruit good workers with reasonable benefits, and even for insurance companies who have to answer to their stockholders who expect profits every quarter," said O'Neill, who hopes everyone will join the conversation about change.
"That is the only way we will learn what is important to each sector so to arrive at a reasonable solution that best meets all criteria."